"These are especially good served with pasta or soup. Other spices can be substituted for the rosemary, like basil or dill."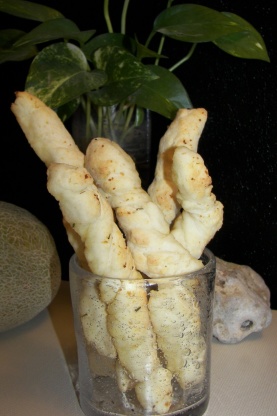 Rosemary Breadstick Twists
5 recipe photos
Directions
Heat oven to 400'.
In 13X9-inch bakng pan, melt butter in oven (3 to 5 minutes).
Meanwhile, in medium bowl, stir together all remaining ingredients except milk, rosemary and garlic.
Stir in milk just until moistened.
Turn dough onto lightly floured surface; knead until smooth.
Roll dough into 12X6- inch rectangle; cut into 12 (1-inch) strips.
Stir rosemary and garlic into melted butter.
Twist each strip of dough 6 times; dip in herbed butter mixture; place in same pan.
Bake for 20 to 25 minutes or until lightly browned.