Want more from Genius Kitchen?
Watch on your Apple TV, Roku, or Fire TV and your iOS, Fire, or Android device.
Learn More
"Here is an idea for a Christmas centerpiece that can be as humbly simple or as lavishly extravagant as you wish. As an artist that works with food, I choose ingredients that look like the things we find in the natural world, but smaller. So a broccoli spear is a tree, cauliflowers become clouds and, as seen in this recipe, rosemary sprigs turn to pine trees. For this particular make-at-home version of a snowy winter wonderland, I have created a Christmas Tree with sprigs of rosemary as foliage, and an assortment of edible treats for the baubles and gifts under the tree. -- Carl Warner"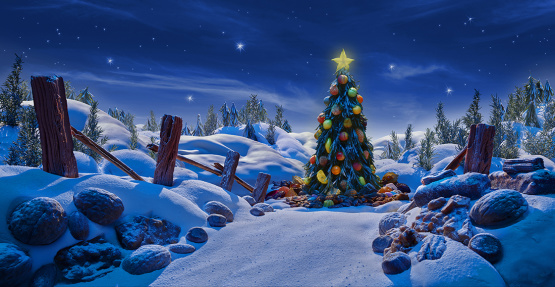 Rosemary Christmas Tree Centerpiece
1 recipe photo
40 -80

sprigs , rosemarry

20 -40

marzipan fruit, apples, peaches, pears, oranges, bananas etc.

1

slice star fruit

1

large carrot, or one flower arranger's oasis
1⁄2 cup powdered sugar (to garnish)
Directions
Make the Base:
To begin, fashion a central trunk from your green floral foam (Oasis). If you want to use a food-based option, try a conical root like carrot, horseradish, or burdock - that way every part of your centerpiece is edible.
Once you've selected your base material, bore holes with a bradawl or screwdriver. This method will be how the trunk holds the rosemary sprigs.
After boring the holes, push the woody ends of the rosemary sprigs far enough into the trunk so that they won't fall out. Start with larger sprigs at the base and work your way up the trunk adding smaller and smaller sprigs as you go. You can always cut sprigs in half to create the smaller sprigs near the top of the tree.
The height of your finished tree will depend on the length of your trunk (Oasis, carrot, etc.), while the width of your trunk depends on the length of your longest rosemary sprigs at the base of your tree. So if you have six-inch sprigs, the width of your base will be double that.
Once you have worked your way to the top and evenly spaced your branches all around the trunk, your tree will be complete. At this point, take a good look at the shape of it. If it is too wide in places or uneven in any way, don't worry, you can always snip a bit here and there with a sturdy pair of scissors or garden shears.
Once you are happy with the shape, you can begin the decorating. This is a great time to get family, friends or children involved, although they could, of course, be making their own especially if you want more than one tree to decorate the table.
Using toothpicks (or gardening wire of the same length), push the ends through the rosemary into the trunk leaving their points exposed. If your base is small, you may need to cut your toothpicks in half. Space them evenly up and down and around the tree. Then push your decorations onto the exposed points. These ornaments can be whatever you want, from marzipan fruits as listed in the instructions to frosted jellies, candied fruits, chocolates, or any sort soft candy.
Now that you've decorated the tree, you need to finish it off with a star on the top. This can be cut from a candied lemon or orange slice, or as I have used, and listed in the directions, a slice of star fruit.
Having completed your tree, place it on to a round cake plate or chopping board. If your rosemary sprigs go all the way down to the base of the tree, it should stand easily. However, if you have kept the bottom of the trunk clear of sprigs you may need to secure your tree on to a spike by drilling a hole into your base and putting a nail or screw through it. You could also use a glue-style icing one uses when assembling gingerbread houses.
After ensuring your tree is stabilized, you can add more sweets, candies and treats around the base. These candies act as the presents under the tree, while also saving your beautiful tree from hungry hands.
The beauty of this idea is that it can be tailored to your time and budget, and if you don't have a sweet tooth you can always decorate your tree with spices such as cinnamon and star anise to combine with the rosemary and fill the room with Christmas aromas.
Whichever way you choose, the scent of rosemary will fill the home and fill your guests with wonderment and intrigue.
Of course, if you want to take your tree to another level, you can always do what I have done here and build a whole landscape of rosemary sprigs pushed into fondant icing that has been rolled over loaves of stale bread. Nuts and chocolate swirls provided the rocks and fence posts, and a blue bulb in an overhead light bathes the scene in moonlight.
Finally, a dusting of icing sugar over the whole set gives that freshly fallen snow look, creating a feast for the eyes and the imagination at this magical time of year.
For more inspiration visit www.carlwarner.com.
get the genius kitchen app.
Watch on your iPhone, iPad, Apple TV, Android, Roku, or Fire TV.
Learn More