"I've been wanting to try a "No-Knead Bread" for some time and this recipe showed up in my new William Sonama Magazine. Have to go out and buy a Dutch Oven, and will give this a try. Sounds fairly simple, with a long, slow rise time. It reports and end product of "a rustic bakery-quality bread with a crusty exterior and soft, springy interior" sounds great doesn't it. Can't wait to try it out. I had to put an amount for the cornmeal, but it's actually "as needed" Preparation time does not including rising time. Edited to add: I finally was able to make this, I had trouble with the rising but think my house was to cold. The blend of flavors was a nice change from plain bread and it did have that nice rustic look with a crusty outside."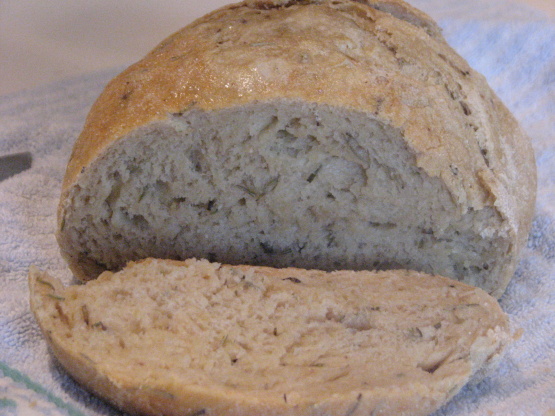 Rosemary-Lemon No-Knead Bread
2 recipe photos
Directions
In large bowl, combine flour, yeast, salt, rosemary and zest.
Add 1 5/8 cups water, stir until blended (dough will be shaggy and sticky)
Cover with plastic wrap.
Let dough rest at warm room temperature (70F) until surface is dotted with bubbles (12-18 hours) Pleace dough on lightly floured surface.
Sprinkle dough with flour, fold dough over onto itself once or twice.
Cover loosely with plastic wrap and let rest 15 minutes.
Using very little flour, gently and quickly shape dough into a ball. Generously coat smoot cotton towel with cornmeal.
Put dough, seam side down, on towel. dust with more flour or cornmeal. Cover with another towel; let rise until dough is more than double in size and does not readily spring back when pokked with a finger, about 2 hours.
t least 30 minutes before dough is ready, put 2 3/4 quart cast-iron pot in oven; preheat oven to 450°F.
Remove pot from oven.
Slide hand under towel; turn dough over, seam side up, into pot; it's OK if it looks messy.
Cover with lid; bake 30 minutes.
Uncover, bake until loaf is browned, 15-30 minutes more.
Set pot on wire rack; cool 10 minutes.
Using oven mitts, turn pot on side; gently turn bread, it will release easily.