"This recipe came from our local grocery store (Festival Foods). I made it for the family and it was a hit. I always make enough for two dinners worth. On the first night, I serve it soft. The leftovers I chill then fry in butter. For fried polenta, you can make this recipe up to two days in advance. Just keep in the fridge until ready to fry & serve."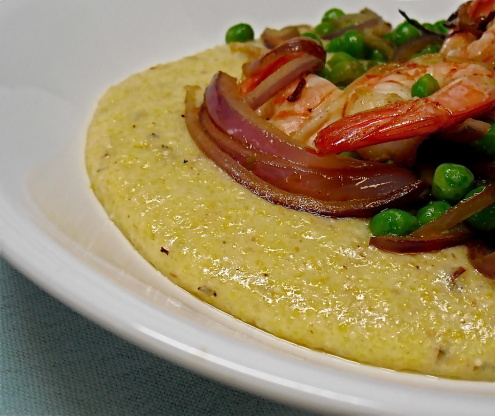 Rosemary Parmesan Polenta
1 recipe photo
Directions
Heat 1/2 cup butter and 1/4 cup olive oil in a large saucepan.
Add the garlic, red pepper flakes, rosemary, garlic salt, and pepper. Saute for 1 minute.
Add the chicken stock, half-and-half and milk. Bring to boil.
Reduce heat to low and slowly sprinkle in cornmeal, stirring constantly with a whisk.
Continue cooking over low heat, stirring constantly, for a few minutes, until thickened and bubbly.
Remove from heat and stir in the Parmesan.
Serve.
For leftovers (assuming you ate half the recipe), pour into 8 x 8 glass dish. Smooth the top and refrigerate overnight.
Cut the chilled polenta into 6 rectangles.
Lift each out with a spatula. Dust each lightly with cornstarch.
Heat 1 Tbsp Olive oil and 1 Tbsp butter in a large saute pan and cook the polenta squares over medium heat for 3-5 minutes, turning once until browned on the outside and heated on the inside.
Add more butter and oil, as needed.
Serve immediately.