"Made this when all we had were potatoes and eggs--and it was DELICIOUS! If you have other ingredients on hand, like gresh garlic and veggies, add them in with the potatoes! Top it with cheese to add more protein."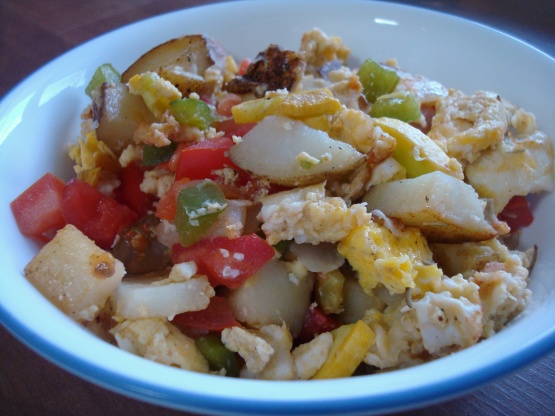 Rosemary Potatoes and Eggs
1 recipe photo
Directions
Peel and dice potatoes into small bite-sized pieces (the smaller the pieces, the faster they'll cook).
Put butter in a frying pan and set to medium-high heat.
Add potatoes and seasonings and fry until a little brown around the edges. (maybe 5 minutes).
Set heat to low, cover, and let it sit for about 5 minutes to finish cooking potatoes. Add more butter if it looks dry.
Move potatoes to the sides of the pan, turn the heat up to medium-high, and crack eggs into the center. Scramble them with your spatula until done. (maybe 5 minutes).
Mix the eggs and potatoes together and serve.