"This excellent recipe was passed to me along with a pail of the smaller apple crabs. It works great with the fall apples too - especially those not requiring peeling ... works well with any baking apple. I use this with the larger fall apples - some of which do require peeling. When dealing with large quantities of the fall apple crop I double and triple this, refrigerating while preparing pastry using
Pastry Dough (Madam Benoit's No Fail Lemon Tang Pastry)
- soon have an assembly line going. In short order have pies prepared then go on to making and freezing pie filler for the winter months with the rest of the apples. This does freeze well.Have canned a good many jars but find freezing gives me an equally good product with far less work."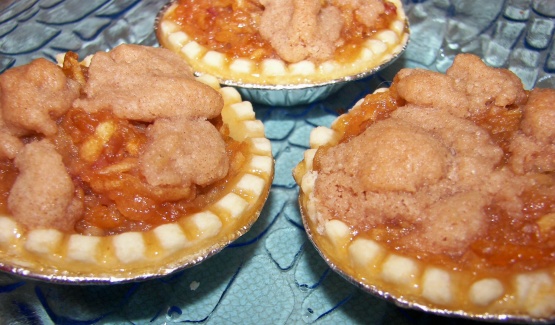 Rosy Crabapple or Apple Pie Filling - (Freeze or Can)
2 recipe photos
Directions
In large pot steam sliced apples 1- 2 minutes.
Cool 1- 2 minutes.
Add the rest of the ingredients and pie filler is ready to use.
Hint When dealing with large quantities of apples I prepare double and triple batches of the pie filler, cool and set into the fridge while preparing the pastry.
I find using the recipe 'Lemon Tang Pastry' which was passed to me as no-fail pastry works so very well making the preparation of pies for the freezer a snap.
Time depends on how fast you can prepare the apples, those with experience do get throught prep time quickly!