"This is a recipe I use when I am in the mood for BBQ Cornish hens (or about a 3 pound chicken)without firing up my grill or smoker. I have one of those Toaster Ovens that have a rotisserie built into them. I simply rub the hens (or chicken) down with the rub, set the timer to 60 minutes and the temperature to Max and if I wanted to, walk away. But instead, I like to baste my birds so they turn out moist and flavorful. The combination of the rub (Very Spicy) and the "mop" (Very sweet) reminds me of a girl I once knew - oops! Another story!! The apple juice is a great addition to a mop because it is not an overpowering flavor, and adds sweetness to the meat. This recipe works well in a sprayer, but can also be brushed on. Shake well each time before spraying. Both the rub and the mop can be used on the grill (Gas or charcoal)"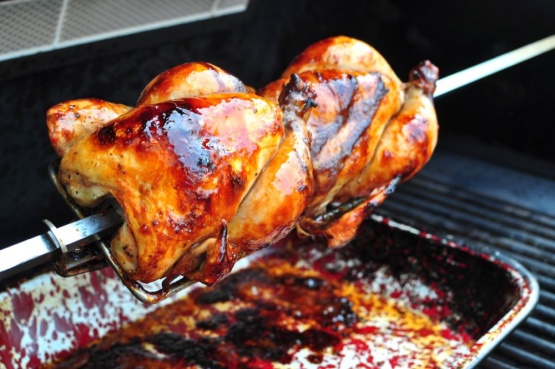 Rotisserie BBQ Cornish Game Hens
1 recipe photo
READY IN:

2hrs

SERVES:

1-2

UNITS:

US
Directions
For a G.E. Countertop Oven with Rotisserie:.
Combine all the ingredients of the rub. Use on poultry: lightly brush bird with olive oil, then rub spice mixture over and under the skin. Let marinade for up to 12 hours.
Warning: Do Not reuse leftover rub or marinade after it has been applied to meat or poultry; it may contain harmful bacteria.
Use a baking twine to secure the bird(s) legs and wings to keep from flopping around as the rotisserie is turning.
Position a rotisserie fork at the opposite end of the spit from where the point is located and secure into position using the thumbscrews.
Thread the spit through the bird(s) cavity and secure the fork into the meat of the bird.
Place the second fork onto the spit and secure into the meat.
Insert the pointed end of the spit into the rotisserie motor and the other end into the support.
Place the drip pan in the oven in the lowest position to catch the drippings.
Turn the timer to the Stay on position (I set mine to 60 minutes then to 30 minutes so I have to check on the birds). Allow to cook for 1 1/2 to 2 hours.
For the mop:.
Mix all ingredients in a pot, and heat over med/low for 20 minutes.
Let the mop cool before placing in a sprayer.
Moisten the birds by spraying the mop onto them about every 20 to 30 minutes during cooking.
Birds are done when juices run clear and the legs separate from the birds easily.