"I got this recipe from a friend, and as always, I changed a few things. Her recipe called for melted butter, but I liked the texture better when it was softened, not melted. It's not "traditional," but when in Hawaii, you just gotta use macadamia nuts. But I like the a mix of pecans and walnuts the best if there are no mac nuts. These cookies are so simple to make and use basic ingredients and are a staple in my holiday goody containers. My nephews love to help me make these, because they know they get to make a mess when they roll them in powdered sugar. I like to make them bite-sized, since the big ones make a mess if you don't pop the whole thing in your mouth! The smallest cookie scooper I have is 25 mm, and they come out about less than half the size of a regular cookie scooper. The little guys bake for 7-8 minutes."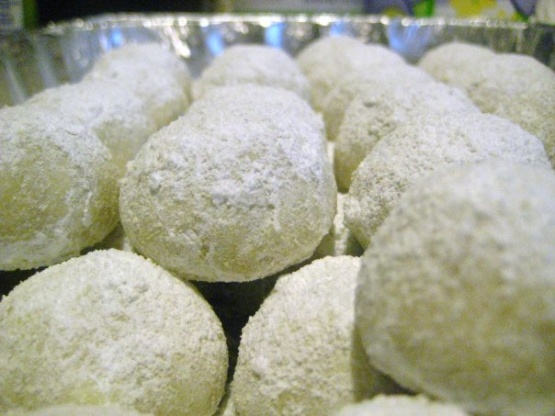 Russian Tea Cookies
1 recipe photo
Directions
Preheat oven to 400 degrees. In a large bowl, cream butter and 1/2 cup powdered sugar until smooth. Add almond and vanilla extracts. Slowly add flour and salt to butter mixture, and mix until incorporated. Mix in pecans and walnuts.
Use a cookie scooper to scoop the dough and then roll into balls (or use your hands to form 1" balls). Bake for 10-12 minutes. (These cookies barely brown, so if they don't look done, it's okay!).
Roll in powdered sugar while still warm, and roll again when cool.