"This dish has seen plenty of variations over the years. It has been a staple of my family's Christmas morning meal for as long as I can remember, though. This version is the standard version, updated to include the gluten-free bread. Frequently, we'll use a mix of fresh and frozen vegetables based on what's around and what's able to be made. This is comfort food, plain and simple."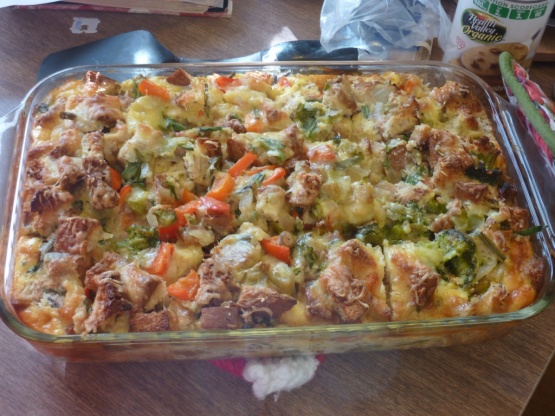 Rust Family Christmas Egg Bake
1 recipe photo
Directions
In a skillet over medium-high heat, melt the butter in the canola oil as it heats. When the butter is completely melted and starts to sizzle, add the diced onions and sauté until the vegetables just start to brown on the edges.
Add the broccoli, bell peppers, mushrooms and garlic to the skillet and season, to taste, with salt and pepper. Cook until the broccoli starts to soften.
When done, remove from heat and set aside.
Add the diced green onions to the cooked vegetables.
Chop the gluten-free bread into cubes and place it in a large mixing bowl. Add the vegetables to the bread as well as half of the cheese. Mix everything together until the cheese and vegetables are evenly distributed. Spread this mixture into a large baking dish. For the default values, we use a 3-quart, 13" x 16-1/2" pan.
In a different, large mixing bowl, combine the eggs, milk, salt, and black pepper. Whisk to combine.
Pour the egg and milk mixture, slowly, over the bread and vegetables, making sure to distribute the liquid evenly. When done, cover the top with the remaining cheese.
Place into a heated, 325 degree (Fahrenheit) oven and bake for 45 minutes.
Remove from the oven and let cool for a few minutes before cutting and serving. This dish is also quite good at room temperature, similar to a frittata.