"This is a super simple recipe and everyone loves it. The cream cheese dough is not rolled but simply pressed into a rough round. This is the richest and most delicious pastry dough I know. The apples don't have to be precooked. The combination of tart apples and rich, tangy dough is irresistible. Mom's Big Book of Baking."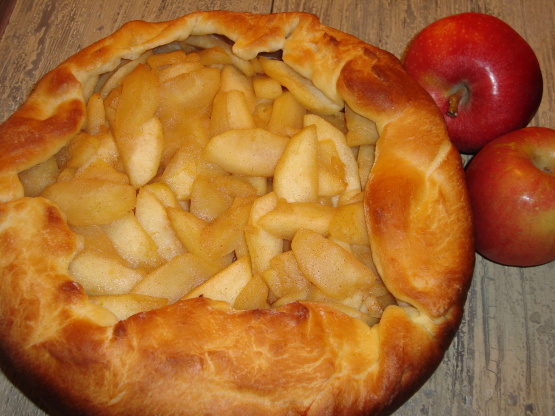 Rustic Apple Tart With Rich Cream Cheese Crust
1 recipe photo
READY IN:

50mins

YIELD:

1

tart

UNITS:

US
Directions
Preheat the oven to 400 degrees.
TO MAKE THE FILLING: Peel the apples and cut them in half.
Remove the cores with a paring knife.
Cutting from blossom end to stem end, slice each half into 1/4 inch thick slices.
Combine the apple slices with the lemon juice, 1/4 cup of the sugar, and the cinnamon in a large mixing bowl.
Stir to combine.
Let the apples stand until the sugar is dissolved, about 15 minutes, stirring once or twice.
Place a shaped large dough round on a baking sheet.
Arrange the apples slices in 2 concentric circles on the large dough round or in one circle on the small rounds, overlapping the apple slices slightly.
Brush the rim of the crust with the egg yolk.
Sprinkle the apples with the remaining 2 tablespoons sugar.
Bake until golden, 30 to 35 minutes.
Serve warm or at room temperature with Vanilla Whipped Cream or ice cream on the side.
Rustic Apple Tart is best served on the day it is made.
TO MAKE THE CHEESE TART DOUGH: Line a baking sheet with parchment paper.
Place the cream cheese, butter, 1 cup flour, salt, and sugar in a food processor.
Process until the dough just comes together.
It will be sticky.
Sprinkle the parchment paper with flour.
Turn the dough out onto the sheet and, with floured hands, press the dough into a rough 10-inch circle or four 5-inch circles.
Roll about 1/2 inch of the edge of the circle inward to create a lip to catch the juices.
Refrigerate the crust for 1 hour or wrap the baking sheet in plastic and refrigerate it for up to 24 hours until you are ready to use it.
Shaped Rich Cream Cheese Tart Dough, wrapped in plastic, may be frozen for up to 2 months and used directly from the freezer.
TO MAKE VANILLA WIHPPED CREAM: Combine the cream, sugar, and vanilla in a large mixing bowl.
With an electric mixer fitted with a whisk attachment, whip on high speed until the cream just holds stiff peaks.
Do not over whip.
Use immediately, or refrigerate it, wrapped in plastic wrap, for up to 6 hours.
Whisk it again for a couple of seconds before using.
NOTE: If you are having eight or fewer people for Thanksgiving, double this recipe and make eight individual tarts.
The dough can be made and shaped weeks ahead of time, and the rest of the prep is minimal, leaving lots of time to prepare the rest of the meal.