"Whether the following recipe is traditional French or more "French-inspired", that I do not know. "What is Salade Gruyère de Comtè, Alex?" Is that the correct answer? Please use quality ingredients in this salad recipe. Don't try to sneak in Velveeta, my friend. I have eyes on the back of my head. ;) From a local source. Info for Gruyère de Comtè from igourmet.com: Made from a centuries-old recipe, 70-pound wheels of Gruyere de Comté (Comté, for short) have been produced since the reign of Charlemagne, when there were no separate entities named France and Switzerland. Although Swiss Gruyere may be better known, the French variety is no less special. Created by local villagers in alpine dairies called "Fruiteries", its milk comes only from Montbeliarde and Tachete de L'est cows. Contributing to Comté's unique flavor, morning and evening milkings are mingled before the cheesemaking process. For transforming the milk into curds, the cheesemaker must only use natural ferments to receive the Comte seal. The wheels are aged for six months, resulting in a sweet and nutty masterpiece with less bite than its twin from Switzerland. Comté has a satiny, ivory-colored body and a scattering of holes the size of a hazlenut. A traditional fondue cheese, Comte can also be shredded, sliced, grated, chunked or melted."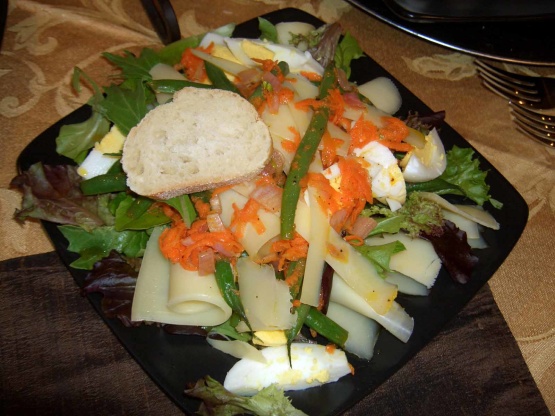 Salade Gruyère De Comtè Pour Deux
1 recipe photo
READY IN:

25mins

SERVES:

2

UNITS:

US
Directions
Whisk the vinaigrette ingredients together in a non-reactive bowl. Adjust seasoning if necessary. (You want a bright and slightly salty vinaigrette.).
Marinate the carrots, eggs, shallot, green beans and Comtè cheese 15-20 minutes in the vinaigrette.
Arrange the mesclun on two salad plates.
Next, arrange the marinated vegetables on the greens.
Drizzle remaining vinaigrette on top.
Serve with crusty French bread.