"Have fun with this, especially in summer! Use very large tortilla shells, form it into clam-shell shapes, and bake in the oven until hard. Then fill with a delicious salad. See my pics ... As the salad is eaten, you also break off bits of the tortilla to crunch! You can bake the shells ahead of time and keep in airtight plastic bags, but once the salad is tossed with dressing and added, serve it fairly soon to prevent the shell from getting soggy. I made these with no thought of a "recipe", so my directions are very approximate."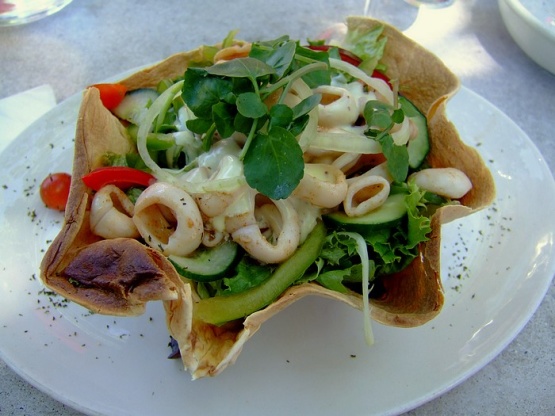 Salads in Tortilla Shells
2 recipe photos
READY IN:

35mins

SERVES:

4

UNITS:

US
Directions
(You don't have to use calamari, so read through. Zaar changed "calamari" to "squid", but it's the same thing. The photo's give two ideas for using this easy, versatile way of serving a light lunch or starter).
Fry the calamari rings in oil, in batches, for about 1 - 2 minutes per batch. If calamari is fried or boiled for too long it goes tough. You can also boil it. Whichever method you use, it should just turn opaque white, and then removed to a sieve to drain and cool slightly.
Mix the hot pepper into the dressing. (We prefer a vinaigrette, but any favourite salad dressing is fine). Put the cooked calamari in a bowl and mix in the salad dressing. Cool and cover. (Can be done a day ahead).
As suggested (see picture) you can sidestep that and merely use pre-prepared smoked chicken breasts, sliced.
The salad ingredients are to taste as well: use what you have at hand. (I add peppadews, which are delicious. Avocado slices are also great, or use pickled instead of fresh bell peppers).
To make the tortilla shells, heat oven to 325 deg F or 160 deg Celsius.
Use similar round dishes to shape the bottom of your salad "bowl": put it on a tortilla.
The easiest way is actually to turn the round dish upside down, and drape the tortilla sides over the dish, and bake it that way.
If you don't have enough small round oven dishes to do that, just use one dish to shape all the "bowls" of the tortillas. Keep the tortillas right side up, and use scrunched foil to support the wavy sides. Bake on a tin until hard and browning at the edges. (I'm not sure of the time: just watch them, but it should be about 15 mins). Cool.
Prepare and slice all the salad ingredients and put in a bowl. Season lightly with salt and pepper.
To serve, add the calamari to the salad ingredients with the dressing. Toss lightly; you only want the salad to be lightly coated. Lift out with a slotted spoon so excess liquid can drip off, and fill the shells.
Serve.