"Supa has made this for us many times. This time I wrote it all down and took lots of pictures. Supa is a great cook, and most wonderful Daughter-in-law. She doesn't usually measure, so I weighed and stuck the measuring spoons under her ingredients as she tossed them into the bowl. It flowed for both of us, and the results were just mouth watering. I love to watch her hands move.Supa made this on the 2008 annual trip from San Antonio to Staunton. This was one of the many things we had for dinner their last night here."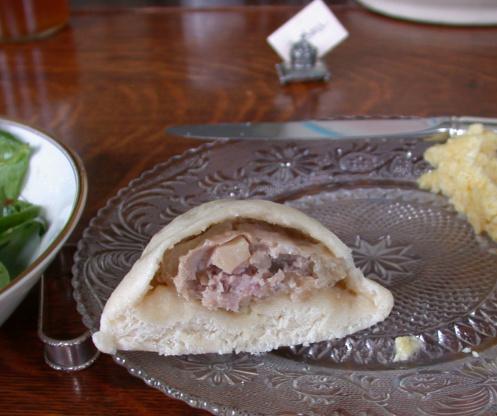 Salapow, Steam Buns, Dia Bao, or Dim Sum
12 recipe photos
Filling

1 1⁄2 lbs pork (chopped fine, or ground pork)

2

teaspoons fresh ginger (grated)

20

ounces water chestnuts (a 1 pound 4 ounce can, Supa says, except for fresh, bamboo shoots are too strong)

1

large onion (chopped)

4

tablespoons oyster sauce

1

teaspoon pepper (freshly ground)

5

garlic cloves (chopped)
1 1⁄2 teaspoons salt

1

tablespoon sweet soy sauce

1

tablespoon light soy sauce

1

tablespoon sugar

1

tablespoon sesame seed oil

Buns

32

ounces flour (2 - 16 ounce packages Saigon dia-bao a mixed flour, salt, and baking soda found in Asian store)

2

cups milk

1

cup sugar

2

tablespoons vegetable oil

4 -8

tablespoons flour
Directions
Mix filling ingredients in a large bowl.
Transfer to covered container and refrigerate while making the buns.
Cut wax paper into 24 - 3" squares.
Put bottom of water filled steamer over high heat and cover.
Put 2 packages of mix in bowl and add sugar.
Mix,.
Add flour and oil, and mix with hands in bowl, adding any additional flour as needed to keep from being too sticky.
Knead in bowl 10 minutes.
Cover and let rest 10 minutes.
Knead again for 5 minutes.
Pinch off golf ball sized pieces of dough, and flatten into 4" rounds.
Put generous spoonful of filling in center and pinch to close.
Place on wax paper squares and put in steamer trays.
Put trays on top of steamer bottom, adjust heat, cover, and steam for 15-20 minutes.
Serve in individual steamer baskets (if you are so fortunate to have them) or on platter.