"This recipe sounds very good and uses fresh asparagus. Again, it is a recipe from Betty Crocker Bisquick cookbooklet, October 1998. If you are like me and do not like to debone and pick thru canned salmon there is also a package of salmon. I believe it is Chicken of the Sea and is in the aisle with the tuna in the grocery store. My mom has used the packaged tuna and said it does taste a bit better than the canned and not so much of the mess."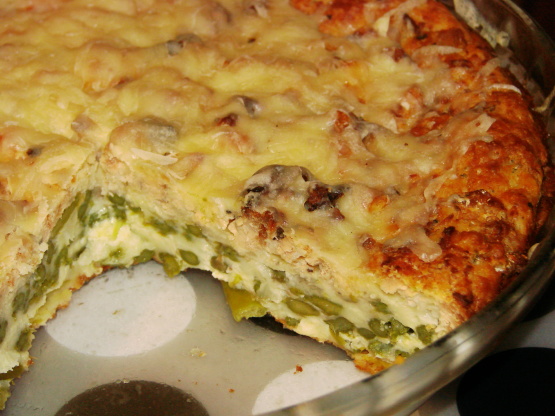 Salmon Asparagus Pie
7 recipe photos
Directions
Preheat oven to 400 degrees. Grease a 10x1 1/2 inch pie plate. Sprinkle asparagus, onions, 1/4 cup of the cheese and salmon into the pie plate, follow that order.
Stir together the baking mix, milk, basil, pepper, and eggs until blended and pour over salmon.
Bake for 40 to 45 minutes uncovered, or until knife inserted in the center comes out clean. Sprinkle remaining cheese immediately on pie. Bake an additional two minutes or until cheese is melted. Let stand 10 minutes, slice, and serve.