"The Jamaican national dish. It's a breakfast dish, however, I like to eat it with rice for lunch or dinner. Enjoy!"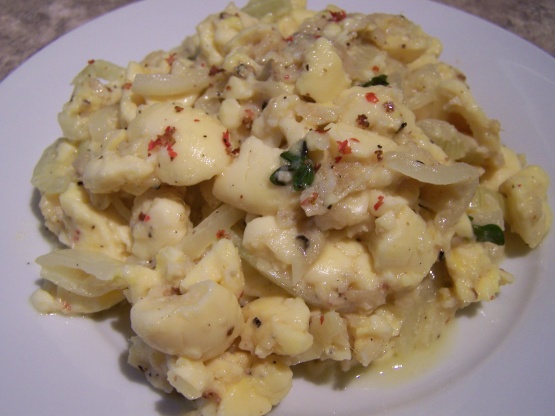 Saltfish and Ackee
1 recipe photo
Directions
Soak fish overnight, changing the water several times, or boil it for 30 minutes to an hour in order to reduce the saltiness of the fish. You may take a taste test afterward to make sure the fish is not too salty.
Rinse the fish and flake it into small bites.
Put oil in a frying pan, heat and add onions, thyme, garlic and the scotch bonnet pepper slices (Note: Scotch bonnet peppers are very spicy so you may need to adjust the amount. Also, green scotch bonnets are milder than the red ones). Stir for 2 minutes.
Add fish and stir for 2 minutes.
Drain ackee, stir into pan taking care not to crush it or break it apart too much.
Stir in tomatoes and cook a little longer till they are soft.
Take a taste test. Sprinkle with pepper and add salt if needed.
Serve alone, or with white rice.