"This recipe came from an article in the Wine Spectator by Sam Gugino. According to his article, it came from an award winning Chili Cook Off, though I don't have the article any longer to cite that properly. (Though this came from the Jan. 31 - Feb. 28, 2005 issue of the Wine Spectator Magazine, page 33.) This is an incredible chili with exactly the right amount of spiciness. If you are not careful with handling the chilies with gloves however, you will be on FIRE the whole time you cook it! (And oh boy, don't touch your eyes!) The work involved in this recipe takes some significant time, but if you do take your time, the outcome is totally worth it! You will never find something that tastes this good from a packet or out of a can."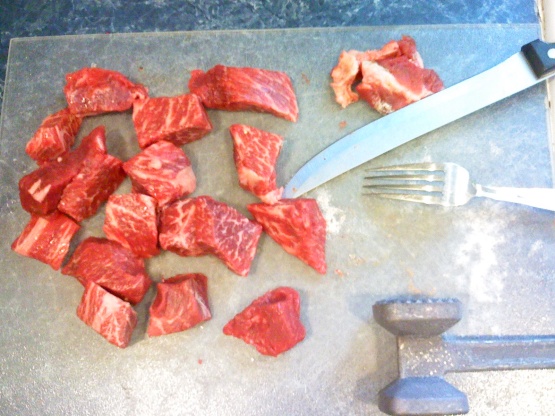 Sam Gugino's Chili Con Carne
4 recipe photos
Directions
Preheat oven to 350.
Season the meat with salt and pepper.
Put the oil in a Dutch oven or other large heavy bottomed stew pot over medium high heat.
Dredge half the beef in the flour, shaking off excess.
Brown well in the hot oil and then remove to a platter with a slotted spoon.
Repeat with the remaining beef, then the pork.
Pour off any fat from the pot.
Add the onions and garlic and sauté until soft.
Add the broth and bring to a boil, scraping the bottom of the ban with a wooden spoon.
Return the meat to the pot and simmer gently, covered, for 45 minutes.
Meanwhile, toast the dried chilies in the oven for 5 minutes, until puffed and fragrent. Be careful to not let these burn, it can happen in a few seconds.
Put 2 cups of water on the stove to boil.
Using rubber gloves, remove the stems and seeds.
Break up the chilies into coarse pieces and place into the boiling water. Turn off the water and let soak for about 15 minutes.
Remove peppers from water and put in a blender with about 1/4 cup of the water and pure enough to form a smooth paste.
Toast the cumin seeds in a skillet over medium low heat, stirring until fragrant, then grind.
Add the Chile paste, cumin, oregano, tomato sauce and sugar to the meat mixture and simmer gently for another hour and fifteen minutes, partially covered, stirring periodically.
Taste and add salt only if needed.
Cook for an additional half hour.
Serve in bowls with diced Jalapeno peppers over the top with cheese or sour cream.
get the genius kitchen app.
Watch on your iPhone, iPad, Apple TV, Roku, or Fire TV.
Learn More