"Warm and filling Jambalaya that even my toddlers eat. I like it served with warm buttermilk biscuits."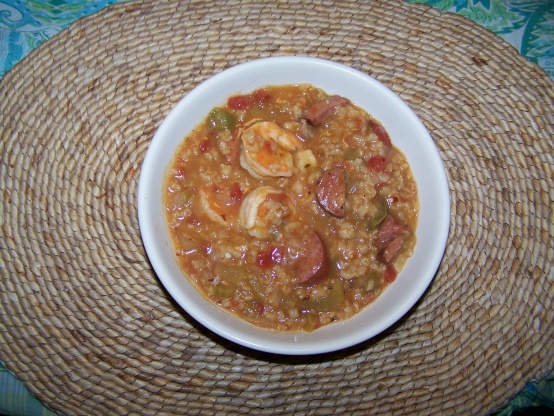 Samantha's Jambalaya
1 recipe photo
Directions
In a large pot, combine celery, bell pepper, onion and one tablespoon of olive oil; saute for about 3 minutes.
Add the diced tomatoes, Cajun seasoning, garlic, crushed red pepper and chicken broth; bring to a boil.
Add the rice, bring to a boil again, cover and cook for 20-25 minutes until the rice is done.
Meanwhile, get out a frying pan, add the remaining tablespoon of olive oil and brown your sausage; set aside in a covered bowl.
Saute and thoroughly cook your shrimp in the same frying pan, set aside (you can use already cooked shrimp for an easier preparation).
When the rice is done cooking, stir in your Kielbasa and shrimp and then SERVE AND ENJOY!