"I was looking around for a good Sankaya recipe and ended up with a hybrid of two. Here it is. I have used a 4.5 lbs pumpkin before but I'll stick to a smaller pumpkin. I use packet coconut milk and realise that it comes in 200ml and not 250ml (1 cup). The steamed pumpkin will not be sweet so you may want to put in more sugar to compensate. Cooling time is about 2 - 3 hours. Chill overnight if desired. If you have Pandan essence, use that. Add 1 cup of Ginko Nuts if desired."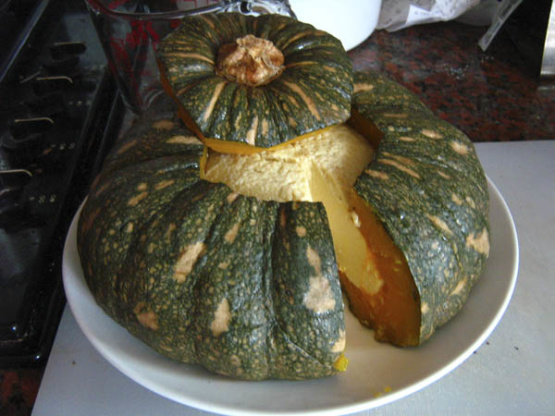 Sankaya (Thai Pumpkin Custard)
2 recipe photos
Directions
Make sure ingredients are at room temperature.
Cut a hole from the top and remove the cap.
Using a spoon remove all the seeds and guts.
Fill cavity up to 1" from top with water.
Pour water into a measuring container.
Note amount of water.
That will give you a idea if your pumpkin's cavity is too small for the custard filling. Pour water out of container.
Mix coconut milk, eggs (5 eggs if using 200ml coconut milk, 6 eggs if using 250ml), sugar and extract well in the measuring container.
Add Ginko nuts if using.
Pour into cavity leaving 1" space from top.
If there is too much headspace (too little filling), you can use evaporate milk to make up the shortfall.
Put pumpkin into a steamer that has boiling water.
Do not put cap back on the pumpkin.
Put cap next to the pumpkin in the steamer or on it (see photo).
Steam for 45 minutes.
The custard will rise up a bit (that's why we leave 1" space).
Use a knife or fork and push it into the custard.
If it comes out clean. It's done.
Leave to cool to room temperature.
If you cut the pumpkin when it has not cooled sufficiently, the custard will be runny.
I would put it into the fridge before cutting. But that's me.
Enjoy.