"This is a cinnamon roll gone orange. They are soft and could possibly give the cinnamon roll a run for its money!"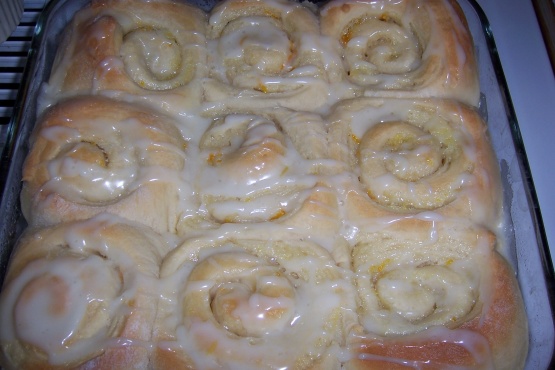 Sarah's Orange Rolls
1 recipe photo
Directions
Place yeast in 1 cup warm water and let dissolve. Mix together all ingredients (add the dissolved yeast last) except the flour in a large bowl and mix on high speed until the mixture is smooth.
Add flour gradually until the dough starts to pull away from the sides of the bowl and the dough is smooth.
Knead until smooth. Spray a large mixing bowl with cooking spray. Place dough inside and place in a warm area covered with plastic wrap. Let raise until double - approx 1 hour.
Divide dough in half and roll dough out 1/4-inch thick. Mix the sugar orange rind and enough of the juice just to moisten the sugar. Sprinkle on the dough. Roll up and slice with a string approximately 1-inch thick.
Place on greased cookie sheet or parchment paper. Cover with plastic wrap again and let double.
Bake at 350° for 15-20 minutes. Mix all frosting ingredients together until smooth. Frost rolls barely cooled orange icing.