"This to me is a great casserole to use up leftovers.After a dinner party one night, I had some leftover chicken and shrimp, but not enough to make a dish out of each, and wanted to use them up. So, I raided the fridge and pantry and basically grabbed ingredients I thought would work well together, and this was the result. Now this was almost 20 years ago. So, I am guessing, the shrimp was frozen, chicken was probably leftover from a baked whole chicken which works fine and the mushrooms, probably button mushrooms. It is nothing difficult, but it has such a great flavor and it is easy to put together. Now to even stretch the cost of the casserole even further, I love to serve this over toasted baguettes. Using leftover chicken is a great way to empty out your fridge, and the shrimp ... today you can get frozen shrimp (extra large or large) are honestly - they are not all that bad. In FL, I just got extra large previously frozen like most, but they steamed them at the seafood counter and they were only 3.99 lb. How can you go wrong. It gets even easier with pre-sliced mushrooms from the produce section and a can of artichoke hearts. So creamy, rich, filling and easy. It does take 30-45 minutes to bake, but putting together is pretty easy. Besides, served over toasted baguettes and a simple side of fresh fruit or tomato slices make for a easy dinner."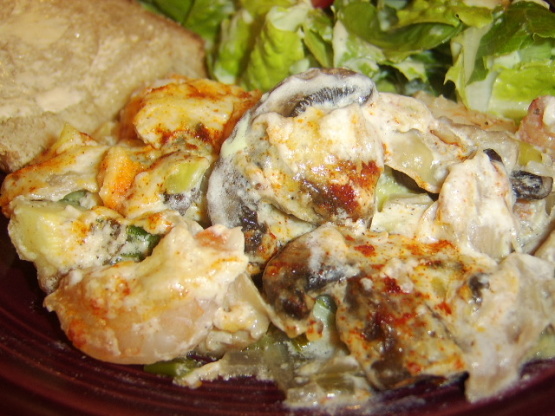 Sarasota's Chicken, Artichoke and Shrimp Casserole
1 recipe photo
Casserole

1 1⁄2 cups cooked chicken, diced cool and dice (leftover chicken works perfect for this, you can also cook 2 chicken breasts (your preferred method)
1⁄2 lb shrimp, cooked and rough chopped (I prefer to use large or extra large)

2

(15 ounce) cans artichoke hearts, drained and cut in quarters (you can always used the quarters in cans, but I like to cut them myself, I feel I get more artichoke)

15

cremini mushrooms, sliced about 1 to 1 1/2 cups (white or button mushrooms will be a good substitute, however, I like the richness of the cremini mus)

1

small onion, cut in quarters and thin sliced

3

scallions, diced fine, white and green parts

1

teaspoon Worcestershire sauce

1

tablespoon butter (1/2 to saute the mushrooms and scallions, 1/2 to grease the casserole dish)

Sauce

2

cups , light or 2 cups half-and-half cream

2

tablespoons butter

2

tablespoons flour

3

tablespoons sherry wine

3

tablespoons parmesan cheese

Garnish

1⁄4 teaspoon paprika
Directions
Casserole -- Use 1/2 tablespoon to grease a 11x13" casserole dish or one similar in size or even a bit smaller. Add the cooked chicken, shrimp, and artichokes and set to the side.
Mushrooms and Sauce -- In a large saute pan, add 1/2 tablespoon butter and bring to medium heat. Add the mushrooms, onion and scallions and cook 3-4 minutes until the vegetables begin to soften.
Then in the same sauce pan, add in the butter for the sauce and melt on medium heat. Then stir in the flour mixing well to combine. Slowly add in the sherry, worcestershire sauce and the half and half or light cream whisking or stirring as you add the liquid until you get a smooth sauce. Check for seasoning, salt and pepper and bring to a light boil. Just medium to medium high heat. The sauce will naturally thicken. You want the consistency like gravy. If necessary, you can add a bit more cream if it is too thick, but it should be just about right.
Casserole -- Top the casserole with the parmesan cheese and the paprika and bake in a 350 degree oven on the middle shelf for 30-45 minutes until bubbly and golden brown. Uncovered. Remove, cover with foil and let rest 5-10 minutes before serving.
Bread -- I love to stretch the cost of the dinner out and serve this over grilled slices of baguettes. 1-2 slices per person and NO butter or olive oil required. Just brown under the boiler and top with the casserole. Makes a perfect dish.
Serve -- A nice salad is perfect with this. ENJOY!
get the genius kitchen app.
Watch on your iPhone, iPad, Apple TV, Roku, or Fire TV.
Learn More