"This is a combination of two recipes ... or maybe four. My Grandma and Moms, my girlfriend who lives Italy, her Grandma and Moms. So we took the best of all our favorite flavors. Optional: These are great additions to your sauce if you prefer a "chunkier" vegetable based sauce. You can add celery, peppers (they can be red or green pepper; or any of your favorite spicy peppers, cubanelle, jalapeno, your favorite), mushrooms,and even carrots which make a sweeter sauce. Of course I top with cheese. Parmesan is traditional, but Pecorino Romano will give you a bit more of a tang to your sauce. And of course you can always add meat. My favorite is a mix of beef and pork sausage, but feel free to add chicken, turkey, or any combination. Now, I don't like my sauce too meaty, but if you want a thicker meatier sauce, just add more. Of course your favorite pasta, fresh is better, salad and crunchy bread. How can you have spaghetti without salad, bread and ... oh yeah ... that glass of red wine."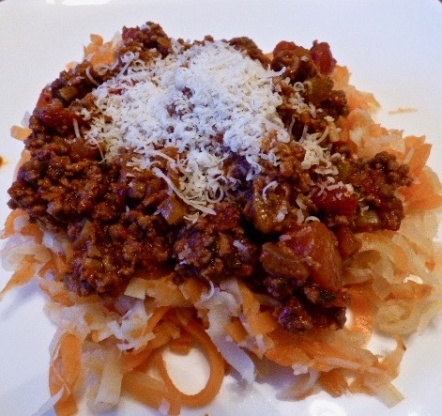 Sarasota's Spaghetti Sauce
1 recipe photo
Standard Sauce

1

(28 ounce) can diced tomatoes (San Marzano or any good quality Italian tomato, or if you can't find any, Hunts or a similar brand w)

2

(15 ounce) cans tomato sauce

1

(6 ounce) can tomato paste
1⁄2 cup red wine (cabernet or merlot works great)

1

cup vegetable broth (or you can use water)

1

medium onion, fine diced (If you want more onion flavor, just use a large onion)

2

teaspoons garlic (Again, add more or less according to your taste, I use 3 teaspoons)

1

tablespoon dried basil

1

teaspoon dried oregano

2

tablespoons fresh parsley (fresh please, it really makes a difference)
1⁄2 teaspoon sugar

1

pinch red pepper flakes

1

teaspoon red wine vinegar (at the end of cooking)

1

teaspoon olive oil (to saute onion and garlic)

Optional

fresh basil, fine chopped

For a Meat Sauce

1

lb ground meat (beef, turkey, chicken, sausage or any combination, you can also use diced pork sausage as well. If y)

For a Vegetable Sauce

1

cup vegetables, fine diced (celery, peppers, red or green bell, spicy such as jalapeno, cubenelle, banana, etc. Any of your favo)

2

cups fresh mushrooms, rough chopped (You will use more mushrooms than the other vegetables because they cook down more)
Directions
NOTE: This can easily be done in a crock pot, but be sure to brown any meat prior to adding it to the crock pot. Also, it is not necessary -- but, I really prefer to saute the onion, garlic or any other vegetables too.
Base Flavor -- Add the olive oil to a big pot over medium heat and add the onion, garlic, and red pepper flakes and saute about 4-5 minutes until tender. Add the wine to deglaze.
* If you plan to use a more vegetable based sauce, just add a little more olive oil and saute all the vegetables at once.
Tomatoes -- Add in all the tomatoes (juice and all) and the broth (or water), sugar, basil and oregano. I reduce the heat to medium low, cover and simmer 60 minutes (30 minutes if you are in a hurry), depending on your time frame. If you like the sauce a little thicker, just remove the cover so the sauce can evaporate a bit.
* At this point, after you added all the tomatoes and seasoning, add your meat back in if you are preparing a meat sauce.
Finishing -- When the sauce is done, add in the red wine vinegar, simply "wakes-up" the sauce, and don't forget to add the fresh parsley. Also check for any additional seasoning - salt and pepper and I love to add some fresh chopped basil (optional) and cook, another 3 or 4 minutes.
Serve -- Just enjoy with your favorite pasta, meatballs, etc., and top with your favorite grated fresh cheese.
get the genius kitchen app.
Watch on your iPhone, iPad, Apple TV, Roku, or Fire TV.
Learn More