"This is a simple recipe that takes some time (like most sourdoughs). An overnight stay in the fridge improves flavor, but isn't necessary."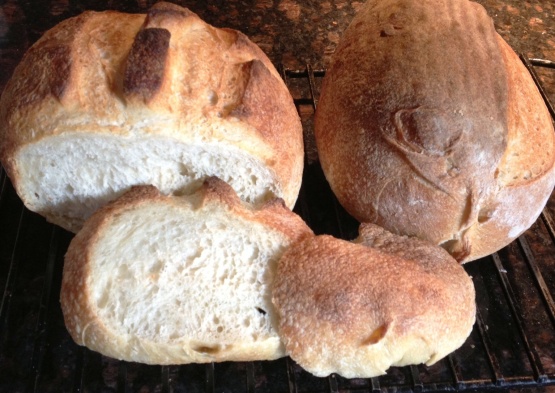 Saturday Sourdough Bread
2 recipe photos
Starter Sponge

2

tablespoons sourdough starter (1 oz)

1⁄3 cup water (2.25 oz room temperature)
1⁄2 cup flour (2.25 oz all purposed unbleached flour)

Dough

1 1⁄3 cups water (10.5 oz room temperature)
3 1⁄2 cups flour (15.75 oz unbleached bread flour)
1 1⁄2 teaspoons salt (0.4 oz table salt)
Directions
Starter Sponge: Add starter to the water and wisk together. Add flour, mix well, cover and let sit at room temperature (70 to 75F) until doubled in volume (6 hours or overnight).
Dough: Wisk starter sponge into the water and add enough flour to make a thin batter. Wisk to aerate dough, forming some bubbles. Add the rest of the flour and mix well to incorporate.
Cover the bowl and let rest for 20 minutes.
Add salt and knead for 8 minutes. Cover and let rest 5 minutes.
Stretch and fold the dough once by stretching dough into a rectangle and folding letter-style side to side and top to bottom.
Place in oiled container (straight sided is best) and mark the point on the container where the dough is doubled.
Let rise in 75 to 80 F area for 30 minutes. Stretch and fold the dough for the second time.
Let rise in 75 to 80 F area for 1 more hour or until doubled in volume (3 1/2 to 4 hours).
Remove dough and divide into 2 pieces weighing just shy of 1 lb each.
Shape into batards or torpedo or boule (ball) shapes. Place loaves on a floured cloth folded to support the sides of each loaf and cover with oiled plastic or in proofing baskets or bowls.
At this point, I let rise for 20 - 30 minutes and place in the fridge but you can let the loaves rise until 1 1/2 times their volume and bake.
If refrigerated, remove the loaves and let warm in a warm place for about 45 minutes as the oven prehneats to 450°F.
Add a cast iron skillet near the bottom of the oven to preheat as well.
Add 1 cup of hot water to the skillet carefully to avoid breaking the oven door glass and score the loaves with a razor blade.
Transfer the loaves to parchment paper and place in the oven using a flat baking sheet or a peel.
Bake for 12 minutes and rotate loaves for even cooking. Remove steam pan as well.
Bake for 10 more minutes until browned or 205 F internal temp Cool on rack.
get the genius kitchen app.
Watch on your iPhone, iPad, Apple TV, Roku, or Fire TV.
Learn More