"Grandma adapted her old-timey recipe to make krout by the jar. When I was a kid we'd shred cabbage by the wash-tubs full outside under a walnut tree in the back yard. This is a short and sweet way to make delicious crisp krout by the quart or pint jar."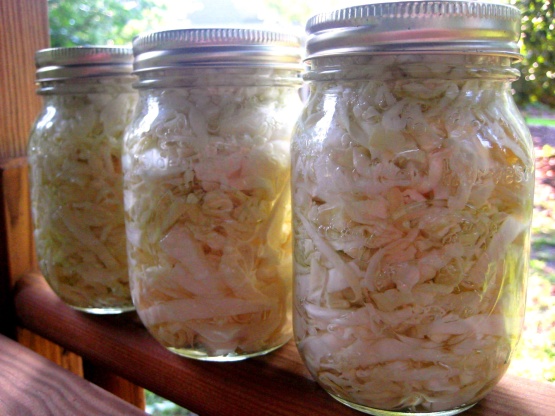 Sauerkraut
1 recipe photo
Directions
Discard limp outer leaves of cabbage, or any that are marred or dirty.
Shred your cabbage using an old fashioned krout cutter, it gives an authentic long shred that is best for krout.
Pack plain cabbage into a pint or quart jar according to your preference. And by pack - I mean put some cabbage in the jar, then turn a wooden spoon, or a spatula or some such, upside down and cram that cabbage in as tightly as you can while filling the jar up.
When the cabbage is packed to the neck of the jar dump in 1 heaping teaspoons salt and 1 heaping teaspoons sugar for a QUART jar.
Use heaping 1/2 teaspoons salt and sugar for a PINT jar.
Fill the STERILE jar with boiling water to within 1" of the rim and quickly cap with a STERILE new seal and ring.
Turn upside down and let cool completely where air can move around the jar.
This krout is NOT SWEET. The sugar aids in fermentation.