"This is an absolute favorite of mine and is a staple at all of my Christmas parties...wouldn't quite be one without them! They have a little bit of heat, balanced by the sour cream, and the combination of crunchy edges on corners of the wonton skins with the chewiness of the portion that cups the filling makes for a wonderful sensation. It's best to make the cups upto a day ahead of time and put them in a plastic bag, but don't seal it or they could lose their crunchiness."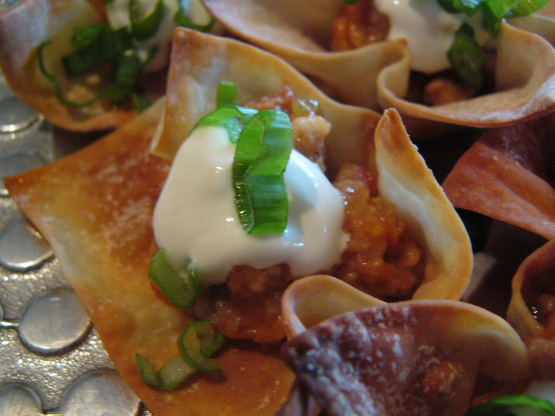 Sausage Flowers
2 recipe photos
Directions
Preheat oven to 350º. Lightly spray a miniature muffin pan with vegetable oil spray.
Wonton cups: Take the wonton skins out of the refrigerator about 10 minutes before you need to use them. They break too easily when cold. Using a tart shaper, press the skins gently into the prepared muffin pan. Ensure that the folds don't fall into center of each cup, pressing back against the sides so that the cup is as large as possible.
Bake the skins at 350º for 7 minutes exactly, turning them halfway through if your oven doesn't bake evenly. Be careful, as they can brown and burn very quickly. NOTE: Darker pans will brown the skins more quickly than silver ones.
If making ahead, put the cups in zipper plastic bags once cool, but do not seal them as the cups will get softer.
Sausage filling: Take the sausage out of the casings (if not loose). Place sausage in a large, deep skillet. Cook over medium high heat until evenly brown. Drain and remove from heat. NOTE: Sausage is hard to break up into small pieces when cooking, so do as much as you can, then once browned and drained, put the sausage into a food processor and pulse a few times to create small chunks.
Place sausage in a large bowl and stir the Colby/Jack cheese into the warm sausage to melt. Stir in salsa and relish.
Place a heaping tablespoon of the sausage mixture into each baked wonton cup. Dollop each with approximately 1 tablespoon sour cream. The easiest method to do this is with a cookie press or icing decorator. Sprinkle with chopped scallions (green part only).
get the genius kitchen app.
Watch on your iPhone, iPad, Apple TV, Roku, or Fire TV.
Learn More