"An Australian classic and a favourite with 2 year-olds through to 92 year-olds, at morning teas, afternoon teas, children's parties and as finger food at adult parties. This version of the recipe combines a few healthier ingredients - ground chicken and several vegetables - with the classic ingredients. From an October 2005 issue of the Australian magazine 'Fresh Living'."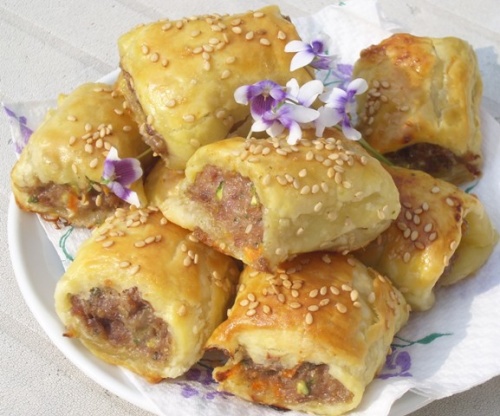 Sausage Rolls
3 recipe photos
Directions
Preheat the oven to 200°C and line 2 baking trays with baking paper; mix both minces, onion, garlic, carrot, zucchini, breadcrumbs, parsley, nutmeg and seasoning together; beat 1 egg and add to the mince mixture; divide into 6 equal portions.
Cut pastry sheets in half, roll a mince portion until 25cm long and place down the centre of each half pastry sheet; beat the remaining egg and brush the edges of the pastry with egg.
Roll the pastry up to enclose the filling and cut each rolled pastry into 6 pieces. Place the sausage rolls on lightly greased baking trays, seam side down, brush with egg and sprinkle with sesame seeds; bake for 20 minutes, reduce heat to 180°C, and cook for 10 minutes, until golden. Serve with tomato sauce.