"This side dish complements many dishes and can be prepared quickly while the main dish is cooking."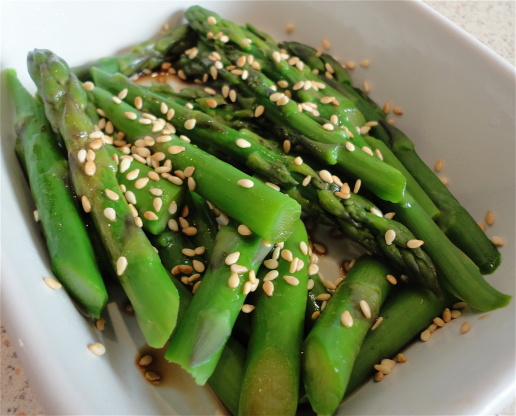 Sauteed Asparagus With Sesame Seeds
3 recipe photos
Directions
Trim any tough ends from the asparagus stalks. Cut into 1 inch pieces on the diagonal.
Heat butter in a skillet and cook the asparagus about 1 minutes, tossing and shaking to cook evenly. Sprinkle with sugar and cook, while tossing, about 30 seconds more. Sprinkle with soy sauce and continue cooking another 30 seconds being careful not to overcook.
Meanwhile heat the sesame seeds in a dry skillet also shaking and stirring. Remove from heat when they begin to turn golden.
Sprinkle sesame seeds over asparagus and serve.