"While not quick, this elegant main dish is easy to assemble and will get rave reviews. What makes this especially easy is using nonstick spray instead of melted butter or olive oil between the phyllo layers, reducing the chances of tearing the sheets. Inspired by Italian flavors, with a touch of Americana, this dish would be lovely served with a light spinach salad, or some tender steamed vegetables. If you are using frozen phyllo dough, please remember to take it out to thaw two hours before assembling."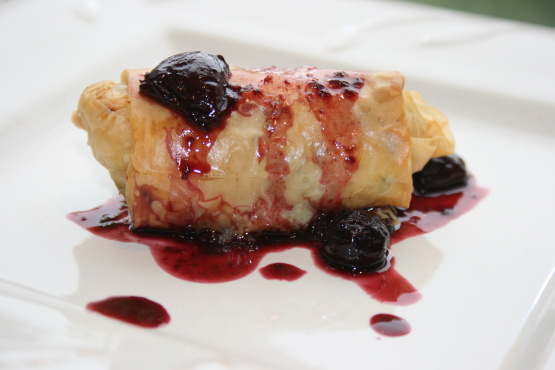 Savory Chicken Bundles With Balsamic Berry Sauce
1 recipe photo
READY IN:

1hr 15mins

SERVES:

6

UNITS:

US
Directions
Preheat oven to 325°F/165°C/gas mark 3. Prepare a baking sheet large enough to hold your chicken breasts by spraying it with non-stick spray.
Heat olive oil over medium high heat in a large saute pan.
Clean chicken breasts and remove excess fat. Pat dry and season liberally with salt and pepper on both sides.
Once oil is hot, brown chicken breasts, 3-5 minutes per side. I had to do this in two batches, as all six breasts would not fit in at once.
While the chicken is browning, finely mince garlic cloves and chiffonade basil by stacking the leaves together, rolling tightly into a tube, and slicing into very thin ribbons. Place mascarpone in a small bowl.
Once breasts are browned, but not thoroughly cooked, remove from heat and set aside to cool slightly.
There should be a little oil left in the pan. If there is more than a teaspoon or two, drain off some. If you need to, add a little more oil. Use this to quickly saute garlic and basil, no more than a minute or two, until highly fragrant. Add basil and garlic to mascarpone and mix to combine.
Before unrolling your phyllo dough, set up your work area. You will need your chicken breasts, your cheese mixture, and your cooking spray in easy reach. You will also need an area to keep your dough damp, and a rolling area (these should each be the size of an unrolled sheet). Have a barely damp paper or cloth towel to lay on top of the sheets you aren't working with to prevent them from drying out.
For each bundle, lay three sheets of phyllo dough on top of each other, spraying lightly between each layer. Place a chicken breast near a short edge. Place a spoonful of cheese on top of the breast. Fold up short edge of phyllo, then sides. Then roll bundle up and place on baking sheet. Spray with cooking spray.
Bake for 30 minutes.
While the chicken is baking, prepare the sauce by combining blueberries, cherries, preserves, and vinegar in a small saucepan. Bring to a boil, then turn the heat down to low and simmer. Stir occasionally, squashing the berries slightly.
Once bundles are done, plate and drizzle with sauce. Let bundles rest 5-10 minutes before serving.