"Found this in the December, 2007 issue of Bon Appetite, as I was clearing some space for more recent magazines. I haven't made them, but didn't want to let the recipe get away. Their serving suggestion - with pre-dinner drinks or on a salami platter."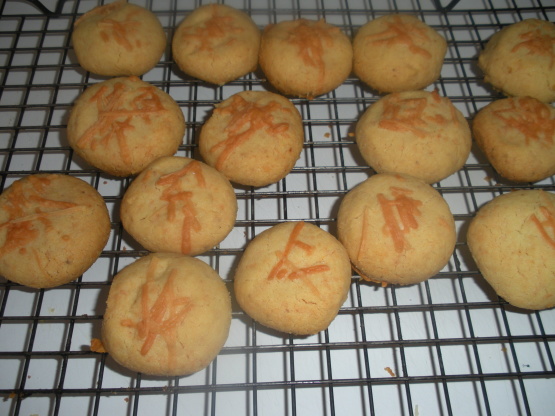 Savory Parmesan Shortbread Rounds
4 recipe photos
Directions
Pre-heat oven to 350*.
Line baking sheet with parchment paper.
Mix flour, 3/4 cup Parmesan cheese, salt, garlic, and cayenne pepper in food processor.
Add butter, and using pulse, process until dough begins to come together.
Gather dough into a ball.
Divide dough in half. Roll each half into 12-inch log.
Cut each log into 1-inch pieces.
Roll each piece into a ball and arrange on baking sheet about 1 1/2 inches apart.
Press each ball into 2-inch diameter rounds.
Sprinkle remaining 2 Tbsp Parmesan cheese over.
Bake shortbread rounds until tops are dry and bottoms are golden brown; about 20 minutes.
Transfer rounds to rack and cool completely.
NOTE: Can be made 1 week ahead and stored in airtight container at room temperature, or freeze up to 1 month.