"These are a fabulous cross between bread rolls, croissants and pizza. Don't let my super detailed instructions put you off, they're really easy to make, even if you're a beginner at working with yeast and kneading dough. Basically, the idea is you make a dough, roll it out into a 'pizza', top the pizza, slice it, roll each slice into 'croissant' shape, then bake. I made mine with two different kinds of fillings but you could make them all the same if you like (just double the filling ingredients). And don't necessarily use the fillings I suggest - use your imagination! Try any combination of: chopped salami, chopped semi-dried tomatoes, sauteed mushrooms, chopped herbs, camembert, goats cheese, chopped capscium (peppers), sliced olives, pesto, tapenade, etc, etc. Times given below don't include 1 hour for the dough to rise."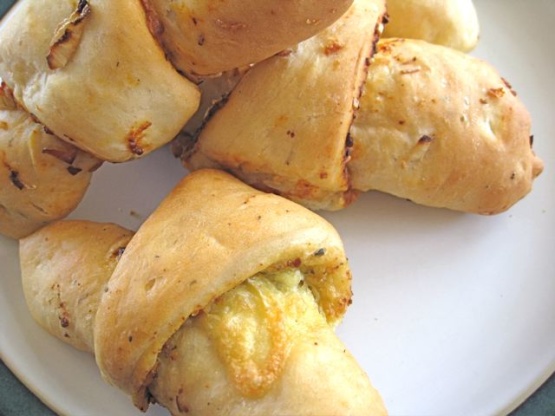 Savoury Crescents
1 recipe photo
Directions
First make the dough. Put all the dry ingredients into a large mixing bowl and stir to combine.
Make a well in the centre and add the oil, water and honey.
Use a wooden spoon to mix as much as possible, then hoe in with your hands - make sure they're clean!
When you have a nice sticky ball with most of the flour incorporated, turn out onto a floured board or bench.
If the mixture seems too wet or too dry, just add a little more flour or warm water. It's very forgiving.
Now, knead the dough for about 5-10 minutes until it is smooth and elastic - again, if it feels too sticky or too dry, just keep sprinkling on a little more flour or a little more water.
When you can shape your dough into a nice, smooth round ball, place it into a large, oiled bowl, cover loosely with plastic wrap, drape a clean tea towel over the top and place it in a warm, but not hot, place to rise.
It will take about an hour (perhaps a little longer) for the dough to double in size.
When it has risen, turn the dough out onto a floured board or bench and divide into two roughly equal portions.
Put one portion aside, and cover it with a tea towel until needed.
Set your oven to 180C (350F) and make sure there are two racks near the centre of the oven to accommodate two baking trays.
Now, shape the first portion of dough into a nice round ball and then, using a rolling pin, roll out into a round 'pizza' shape, about 8mm (1/3") thick (don't worry if it's not perfectly round, close enough will do).
Spread 'pizza' with tomato paste (or pesto or whatever you have chosen), then evenly sprinkle over the remaining toppings.
Cut one slice from the 'pizza' about 9-10cm (3 1/2 - 4") wide at the edge and pull it away so you can work with it.
What you're going to do now is roll it up into a 'croissant' shape.
Roll up the 'pizza slice' starting at the 'crust' edge and working down towards the point, pulling out the edges gently as you go.
Sit it on the bench so that the pointy bit comes over the top towards you and points down.
Now curl both ends around to the front to form a crescent shape.
(I think it looks a bit like a crab at this stage, and you're curling the 'legs' around to meet at the front of the body. And don't worry if your crescents look a bit 'wonky' they'll be fine once they're cooked.).
Place the finished crescent onto a baking tray lined with silicone paper.
Repeat cutting a slice, and rolling up, until you have used up all of the first 'pizza'.
Finally, using a pastry brush, paint the tops of the crescents with the beaten egg, and if you like, sprinkle over any topping that has spilled out onto the bench.
Now, take the second piece of dough, form into a ball, roll out into a 'pizza shape', spread with pesto (or whatever you have chosen) and sprinkle on toppings evenly.
Slice (one piece at a time) and roll up, putting each completed crescent onto a second lined baking tray.
Brush over beaten egg and if you like, sprinkle over any leftover topping.
Place trays into the preheated 180C (350F) oven for 15-20 minutes or until nicely golden brown and firm to touch.
Remove from oven, cool slightly on racks, and serve warm.
Leftover crescents can be frozen, thawed and re-heated in the oven.