"These sticky buns are so good you'll keep coming back for more! They have the perfect amount of stickiness and sweetness that everyone will love! I hope you enjoy them! Preparation time also includes the time it takes for the bread dough to rise, which is estimated to be 45 minutes. The bread mix I refer to in the ingredients is the 3 lb Robin Hood Bread & Roll mix, but you can use whichever brand you prefer...as long as it's 3 lbs. I had originally posted this recipe where it only called for one 9x13 baking pan. I changed it to two 9x13 pans for the simple reason that all of the sticky buns in the center of the pan were not cooked all the way through."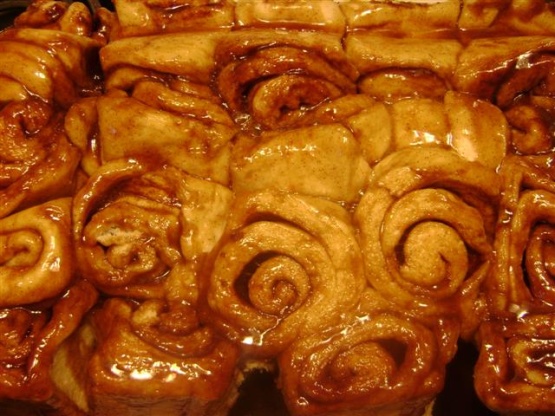 Scrumptious Sticky Buns
2 recipe photos
Directions
Prepare bread & roll mix as per package, incorporating 4 Tbsp of ground cinnamon. Let rise until doubled in size.
Heat all of the sticky topping ingredients in a sauce pot on medium heat, mixing until the brown sugar is completely dissolved into the butter. Divide and pour into two 9x13 baking pans.
Roll dough out into a rectangular shape. Brush the 2 Tbsp milk onto the dough, covering the entire surface. Spread the filling mixture onto the dough, leaving a one-inch line across the bottom of the dough uncovered. Roll like you would a jelly roll. Cut into 1.5 inch thick sections and place individual rolls onto the sticky topping mix. Bake for 30 minutes at 350°F until they are golden brown and the topping is bubbling.
Turn finished buns out of the pans onto a cooling rack (be sure to place a towel or wax paper underneath to catch the drippings) or onto two 9x13 cookie sheets while still hot. Let cool until desired temperature is reached and enjoy!