"Bubbly warm goodness under a crispy crust. Another one dish wonder from Ina. House Beautiful Magazine, September 2009 edition. I have tasted Ina Garten's Lobster Potpie and it was awesome - so how can you improve on something so delicious but she has!!! "One of my philosphies of cooking is to take a recipe you are totally comfortable making, and then have three variations of it up your sleeve." She also says that "she loves all kinds of potpies -- chicken, lobster, vegetable, plus the one with seafood. 1 process = 4 recipes and you have a whole dinner in one dish that goes from the oven to the table. How easy is that?" I really love the way this lady thinks, creates recipes, cooks with ease and has awesome & lovely dinner parties. :) Rated 5 stars out of 525 reviews. Believe it or not - this recipe has been reworked since I tasted it the first time from her 1999 The Barefoot Contessa Cookbook. This can be served to anyone - it can become a family meal or one for guests! Oops - almost forgot the pastry dough has a 30 minute chilling time - sorry ;) I know - it is once in a lifetime experience!"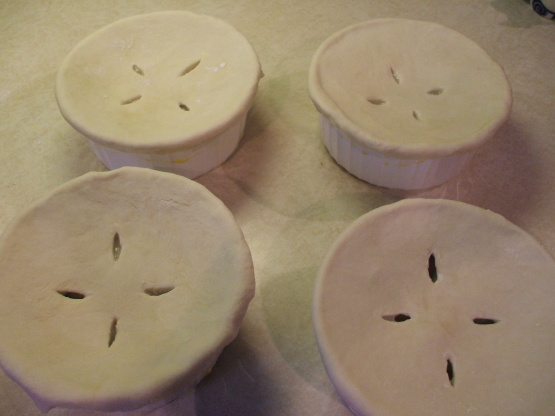 Seafood Pot Pie
3 recipe photos
READY IN:

2hrs 40mins

SERVES:

4-6

UNITS:

US
Directions
FOR THE SEAFOOD:.
Melt the butter in a large saute pan over medium heat.
Add the chopped onion and fennel and cook for 10 to 15 minutes, until the onions are translucent.
Add the flour and cook over low heat for 3 more minutes, stirring occasionally.
Meanwhile, bring the stock to a simmer in a large saucepan.
Add the shrimp and scallops and cook for 2 minutes, just until firm.
Remove the seafood to a large bowl with a slotted spoon.
Pour 3 cups of stock into a measuring cup and discard the rest.
When the flour is cooked in the onion and fennel mixture, slowly add the 3 cups of stock, the Pernod, salt and pepper and simmer for 3 minutes.
Stir in the heavy cream.
Cut the lobster meat into medium-sized cubes.
Add the lobster to the bowl with the seafood, then add the frozen peas, frozen onions, and parsley.
Pour the sauce over the mixture and taste for seasoning.
Pour into a 9 x 13 x 2 baking dish and refrigerate.
FOR THE PASTRY:.
Mix the flour, salt, and baking powder in a food processor fitted with a steel blade.
Add the butter and pulse 10 times, until the butter is the size of peas.
With the motor running, add the ice water; process only enough to moisten the dough and have it just come together.
Dump the dough out on a floured surface and knead quickly into a ball.
Wrap the dough in plastic and allow it to rest for 30 minutes in the refrigerator.
Meanwhile, preheat the oven to 375º F.
Roll the dough out to fit the baking dish with about a 3/4 inch overlap.
Use the egg wash to paint the oitside rim of the dish.
Place the dough on the filled baking dish and press it lightly to adhere to the egg wash.
Make 4 or 5 slashes in it to allow the steam to escape.
Place the dish on a sheet pan lined with parchmen paper and and bake for 1 hour and 15 minutes, until the top is golden brown and the filling is bubbling hot.