"Look for prewashed packages of Asian-style salad mixes at your supermarket - their peppery, exotic character is great with this full-flavored steak and dressing. Look for fiber- and protein-rich edamame (green soybeans) in the frozen vegetables section of your supermarket. The roasted-nut and citrus flavors of the easy dressing go well with Asian-style salads or meals; try drizzling it on grilled shrimp or chicken breast, too. From EatingWell magazine, March/April 2007, and The EatingWell Diet (2007)."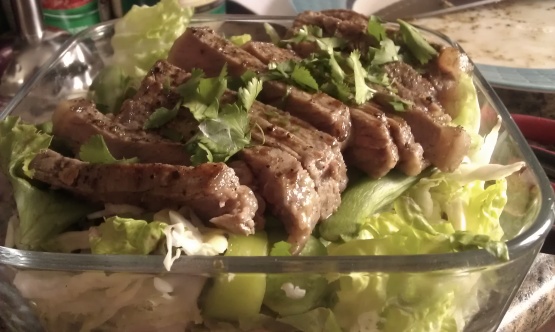 Seared Steak Salad With Edamame & Cilantro (With Variations)
3 recipe photos
Directions
Sprinkle steak with salt and pepper.
Coat a small nonstick skillet with cooking spray; place over medium heat. Add the steak and cook about 4 minutes per side for medium-rare.
Let rest for (at least 5) minutes before slicing.
Combine greens, snow peas, bell pepper, cabbage, cilantro, edamame and vinaigrette in a large bowl. Toss to coat. Divide between 2 plates.
Top with the steak.
NOTE 1: Chicken Variation Substitute 8 ounces chicken tenders for the steak. Cook through, 3 to 4 minutes per side.
NOTE 2: Shrimp Variation Substitute 8 ounces cooked, peeled shrimp for the steak (omit Step 1).
DIETARY EXCHANGES: 3 vegetable, 4 lean meat (1 cabrohydrate serving).
SESAME TAMARI VINAIGRETTE DIRECTIONS:.
Whisk orange juice, vinegar, tamari, oil, honey and ginger in a small bowl until the honey is incorporated. Transfer to a jar and refrigerate.