"This bread is from Bernard Clayton's Complete Book of Breads. According to the book, this recipe originated in 1859 from a baker named Robbie Douglas, in the Scottish town of Selkirk, near Edinburgh. Looks like one for raisin lovers! Submitting for Zaar World Tour III - I confess I have not made this one yet, but will try to do so soon."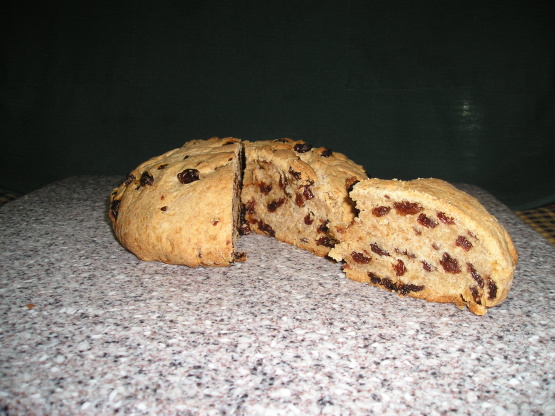 Selkirk Bannock
2 recipe photos
Directions
Grease 3 round 8 or 9 inch cake pans.
Measure one cup flour into a large mixing bowl and stir in the yeast, salt and hot water and put aside for a moment.
Cream together the butter, lard (or shortening) and sugar in a separate bowl. Thoroughly combine with flour mixture.
Stir in the flour, 1/2 cup at a time, first with a spoon and then by hand as the dough becomes more firm. If using a mixer, begin with the flat beater and replace with the dough hook when the dough gets heavy.
The dough will be buttery and oily, hence won't cling. Add flour sufficient to make a dough that is firm but elastic.
Kneading:.
Place the dough on a lightly floured work surface and knead by hand for 2 minutes with a strong push-turn-fold motion, or knead for an equal length of time with the mixer dough hook.
Add the raisins. this is a large measure and it will take a few minutes for the dough to accept them all, but in the meantime, you will be kneading the dough as you work them inches Knead by hand or with the dough hook as you work them inches.
Knead by hand or dough hook for 8 minute, or until all of the raisins are in and the dough is an elastic but firm ball that will hold its shape in a pan.
Shaping:.
Divide the dough into 3 parts. Mold each piece into a large round bun and place in a pan.
It should not touch the sides of the pan, but rise up in a gentle curve away from the sides.
rising:.
cover the pans with wax paper and leave the dough at room temp until risen, about 30 minutes (faster if using rapid rise yeast).
Preheat the oven to 350 degrees 20 minutes before baking.
Bake on the middle shelf of the oven. When tapping the bottom crust yields a hard, hollow sound, the loaves are done, about 1 hour.
if the crust should brown too quickly, cover with a piece of foil or brown sack paper.
Remove the breads from the oven and carefully place on a metal rack to cool.
get the genius kitchen app.
Watch on your iPhone, iPad, Apple TV, Roku, or Fire TV.
Learn More