"A simple to make yummy cookie.I found the recipe in the Good Housekeeping magazine Christmas cookies section December 2005. Note: I think that these cookies would also be good using chocolate graham crackers or drizzling melted chocolate over the tops of cookies."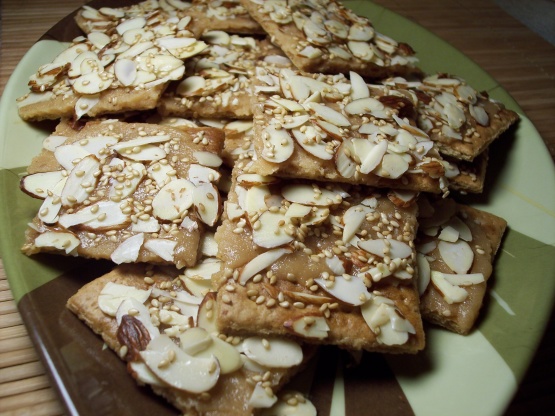 Sesame Almond Squares
4 recipe photos
Directions
Preaheat oven to 350 degrees.
Place graham crackers side by side in ungreased jelly roll pan,(Make sure to use pan size called for; Crackers should cover entire pan with NO spaces in between) I lined the pan with release foil, this way the graham crackers fit really good in the pan.
In a 1-quart saucepan, combine butter and sugar; heat to boiling over medium-low heat, stirring occasionally, Boil 2 minutes or until mixture thickens slightly.
Spread mixture evenly over graham crackers; sprinkle with almonds and sesame seeds.
Bake 18 to 19 minutes or until graham crackers are slightly brown and butter bubbles and turns golden; WATCH CAREFULLY during the last 2 to 3 minutes of baking to make sure graham crackers do not over brown.
Note: my cookies were done in 16 minutes.
While cookies are still in pan, with knife, IMMEDIATLY cut each graham cracker crosswise in half.
With metal spatula, transfer cookies to a wire rack to cool.
Store cookies in tightly covered container, with wax paper between layers,in refrigerator up to 1 month or freeze up to 3 months.