"A recipe that comes from the South of USA. Taken in a book of recipe from different countries. I don't know how much cookies it gives, so I guess 20. If you do it, tell me how much and I'll change it :)"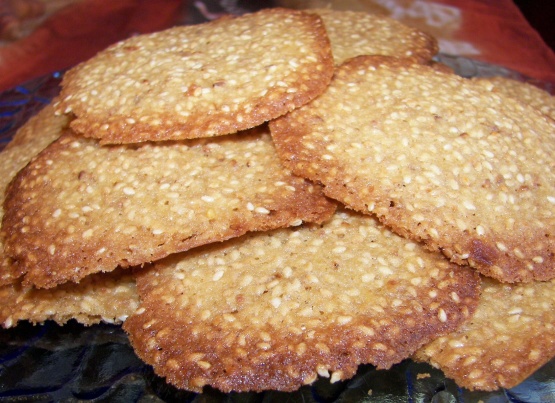 Sesame Cookies
4 recipe photos
Directions
Cream the butter with the sugar.
Add the egg, beat then add the flour, baking powder, salt, vanilla and sesame seeds.
Beat well.
Drop teaspoons of dough on a greased baking sheet making sure to space out each cookie.
Bake in a preheated oven of 340 F for 8 to 10 minutes or until the cookies are hard.
Let cool few seconds, then take them off the baking sheet carefully.
Chilicat had 35 cookies, using a 1-teaspoon scoop.