"This is a great Thai flavor, although it may not be traditional, but to me it still adds all the same flavors of the lime, garlic, and heat from the red pepper. This is NOT a saucy dish but lighter in calories... but still has tons of flavor. If you don't want to use shrimp for this you could easily substitute chicken. The sesame noodles to me are key, it really makes the difference, but you could use vermicelli or spaghetti if need be. I found my sesame noodles right in my local grocer."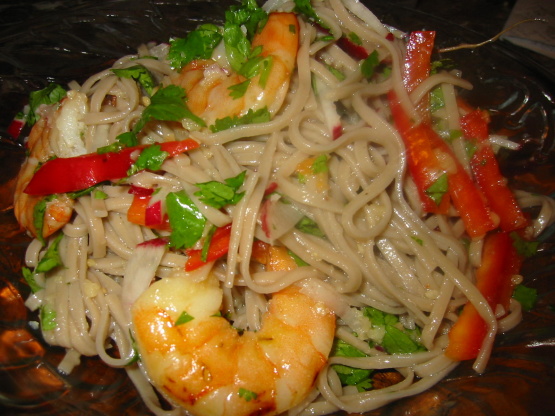 Sesame Thai Noodles With Shrimp
2 recipe photos
Directions
Shrimp -- In a large baggie, mix the olive oil, salt, pepper, lime juice and shrimp and marinate for about 1-2 hours, no more.
Sauce -- To a food processor, add all the ingredients and puree until well blended. This can also be done in a blender. Just set to the side.
Pasta -- make the pasta according to directions. Use plenty of salt in the water and boil the pasta. Once done, drain well, return to the pot to dry out slightly not over heat and just cover on the side to keep warm.
Shrimp -- as the pasta cooks, cook the shrimp. A medium saute pan on medium heat add the olive oil and then cook the shrimp 1-2 minutes per side until pink and the shrimp begin to curl. It doesn't take long.
Salad -- Add the cooked shrimp to the pasta, and then the sauce. Toss well and garnish with the fresh radishes and maybe sound ground black pepper.
A light version of Thai flavors without all the calories. Enjoy!