"These are healthy cookies made with shelled hemp seeds (aka hemp hearts). They are not low fat, but they are full of healthy fats and omega fatty acids. I made them for my family and they were gone in a day! Perfect for our 2 yr old who is underweight - bulking him up using healthy foods. These are the ingredients and instructions as written on the package of hemp seeds, but I made the following additions: pinch of salt, big pinch of baking powder, pinch of nutmeg, pinch of cloves."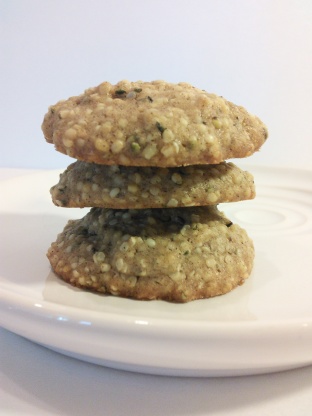 Shannon's Famous Hemp Crisps
1 recipe photo
Directions
Add brown sugar and egg to cooled melted butter and blend well.
Mix flour, cinnamon and hemp seeds separately.
Add the dry mix to the butter mix.
Spoon drop and flatten dough on a lightly greased cookie sheet.
Bake at 350 10 -15 minutes - until lightly browned and the edges are crispy.
For a lighter, more porous cookie increase egg and/or decrease flour slightly.
Do not over mix dough and do not let dough sit long before cooking.