"This is a sugar cookie recipe passed down to me by my mother, who made these every year. They take a bit more work than some and the dough requires refrigeration before rolling, but it is SO worth it! Makes 6-8 Dozen."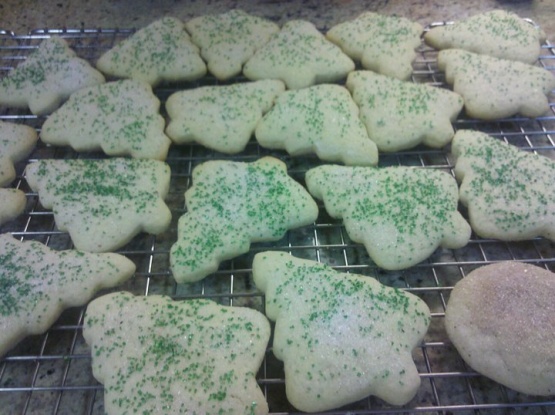 Shotwell's Famous Sugar Cookies
3 recipe photos
Directions
Mix 1 cup sugar with 5 cups flour and baking soda, baking powder, nutmeg, and salt.
Blend butter in with pastry cutter/pastry blender until crumbly.
Beat eggs slightly in separate bowl and add remaining sugar gradually to egg mixture.
Blend buttermilk and vanilla into egg mixture, then blend egg mixture together with dry ingredients. I use powdered buttermilk mix.
Chill dough in plastic wrap or plastic bags in refrigerator until ready to bake (or use immediately). If you are short on time, put the dough in the freezer for 15 minutes or so, rather than in the refrigerator overnight.
Turn 1/4 of dough onto lightly floured board.
Roll to about 1/8" to 1/4" thick. Cut with cookie cutters or hand-cut into circles or other shapes. Use cookie cutters that are relatively simple -- fancier cookie shapes tend to burn or break more easily with this recipe.
Dip cookie top lightly into cinnamon/sugar blend or into nutmeg/sugar blend, or shake on top of cookies.
Bake at 375 ° F for 6-9 minutes, until *very* light brown at edges.
Put on wire rack to cool.
Source: Barbara/Eric Shotwell.