"Tried to find recipes to use up this huge bag of wasabi powder I bought from an asian market. The 1 kilo bag was priced about the same as two of those little 1oz cans so.... I have a lot of wasabi powder. We had a couple pounds of almonds left over from the holiday cookie baking frenzy too and I don't like to let them get rancid so.... Of course, wasabi almonds. I looked for recipes and thought right away that most of them would present the same problem that every other spiced nut recipe would. The spices won't adhere to the nuts. You're left with slightly seasoned nuts and a pile of spices in the bottom of the bowl. I tried the recipe going around with egg whites (baking wasabi pretty much renders the flavor out), I didn't want sugary sweet, and oily nuts were givng me the spice piles in the bowl. I've eaten the Blue Diamond wasabi almonds before and thought they were okay so I checked their Wasabi almond ingredients on their website. This is what I came up with that works for me."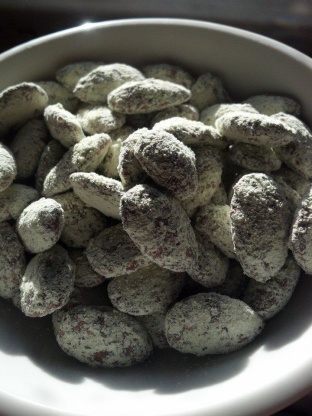 Shoyu Wasabi Roasted Almonds
1 recipe photo
Directions
Line a baking sheet with non-stick aluminum foil or parchment paper. Pre-heat oven to 350.
Spread almonds on the sheet to a single layer. Bake for 10 minutes.
While the nuts are baking, combine marinade ingredients in a stainless mixing bowl large enough to accomodate all the nuts and whisk to combine.
After the almonds have baked for the 10 minutes pour them into the marinade and stir to evenly coat them and then put them back on the sheet in a single layer and bake for an additonal 10 to 15 minutes stirring the nuts at about 7 minutes or so so that they will bake evenly. Taste one at ten minutes and see if is roasted to your liking if not continue until they are done.
Rinse and dry your mixing bowl and combine the dry ingredients in it. When the nuts are done roasting, toss them while they are still hot in the dry ingredients (I usually use a food service disposable glove and press the powder into the nuts). Drop the nuts into a wired strainer over a plate and shake the excess powder off. Warning! Done this way the nuts are a wasabi bomb so if you like it milder, use less powder and a lighter coating.