"This is how I get rid of our extra plain, boring shredded wheat that no one really wants to eat. They are crunchy, but still soft. To my taste buds, they fashion a taste somewhere in between peanut butter cookies and oatmeal cookies, but with a crunchy aspect to them, paired with a hint of chocolatey goodness. The baking time is for a couple batches, but it will vary depending on how big your oven and/or baking sheets are."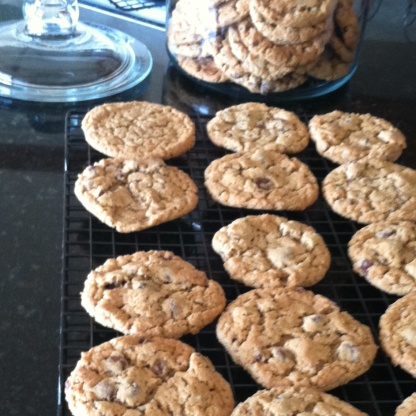 Shredded Wheat Cookies
1 recipe photo
Directions
Preheat the oven to 350 degrees, and lightly grease a large baking sheet or two.
Combine the shredded wheat and 1/2 cup of the chocolate chips in the food processor. Blend until it is finely ground.
Cream together the butter and the two sugars in a very large bowl.
Beat in the eggs and vanilla.
Add the flour, baking powder, baking soda, and salt.
Stir in the shredded wheat mixture.
Add the remaining chocolate chips. Feel free to experiment with adding other things like white chocolate or dark chocolate chips, nuts, M&M's, toffee pieces, anything you like.
Drop by flat tablespoons onto the lightly greased baking sheets and pop them into the oven.
Check them after 8 minutes or so. Depending on the pan you use, they could be done or it could take as much as 12-15 minutes.
Pull them out when the edges are slightly browned and the middle looks soft and squishy, but isn't doughy.
Make sure you cool them completely before packing in an airtight container. When they are suitable to pack, they can stay at room temperature for awhile.