"These are my shrimp egg rolls. They might not be the most traditional egg roll, but this is the way I enjoy making them. Recipe can be doubled easily. They can be made with other meats, or without meat at all!"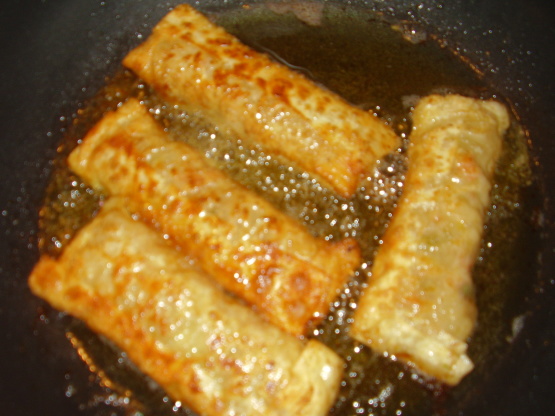 Shrimp Egg Rolls
7 recipe photos
2

tablespoons vegetable oil

12

ounces shrimp, cooked and minced

4

scallions, chopped fine

2

cups Chinese cabbage, finely shredded

2

carrots, shredded

8

water chestnuts, cut into small, thin strips

2

stalks celery, minced

1

cup bean sprouts
1 1⁄4 teaspoons salt

1 -2

tablespoon soy sauce, to taste

2

teaspoons oyster sauce (optional)

1

tablespoon rice wine
3⁄4 teaspoon sugar (optional)

6

egg roll wraps

1

egg, beaten (if you wish, you can use water, but it doesnt always work!!!)

oil, for deep frying
Directions
First heat your 2 Tablespoons of oil in either a wok or is a deeper skillet, and stir fry your shrimp, cabbage, carrots, water chestnuts, and celery for 3-4 minutes.
Then put into the pan the following: bean sprouts, scallions, salt, soy sauce, and sugar, and stir thoroughly.
Add this shrimp mixture to each egg roll wrapper (about 3-4 tablespoons of mixture in each wrapper).
You will want to make a bunched line with the mixture closer to one side of the wrapper, making sure that you are placing it lengthwise down the longer side of the wrapper.
Brush edges with egg.
Fold the shorter side of the wrapper in (the side that runs lengthwise next to the mixture) completely over the mixture, and then fold over both sides of the wrapper that run the other direction.
Then you will want to go to the end with the mixture and start folding (rolling) it tightly to make a cylinder.
Make sure that when you come to the end of the last edge, that it is sealed tightly.
Cover rolls with a damp towel while you finish rolling all of them.
Heat oil in your deep pan to 375.
I usually use about 1 inch of oil in my pan.
Fry egg rolls, a few at a time, until skins are crisp and golden brown, turning them as they brown.
Drain egg rolls on paper towels to get rid of excess oil and serve them at once for best results.
ENJOY!
(if my instructions are terrible, please try to send me an ISO in the message boards so that I may better assist you! I tried my best to explain my procedure!).