"A delightful dessert full of flavor - The fresh berries really give a special taste to the pie, specially if they are picked by you. The Apple off sets the berries. loved by everyone"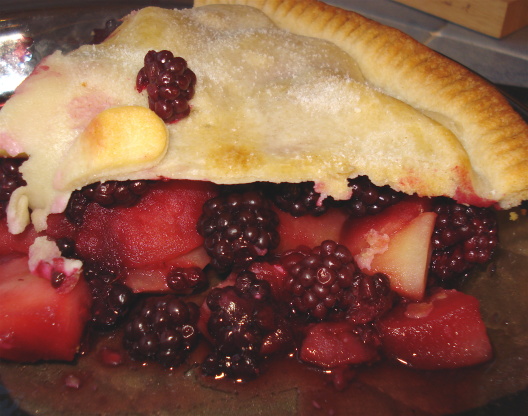 Simple Blackberry and Apple Pie
5 recipe photos
Directions
Peel apples, and cut into thick slices. place in saucepan, adding enough water to cover and add the sugar.
Simmer for a few minutes until the apples are just cooked but still a bit firm in the centre. drain and set to one side to cool.
heat the oven to 220c.
Roll out the pastry. place nearly all of the applies in a pie dish. scattering the blackberries evenly over the top sprinkle a dessert spoon of sugar over the berries , then place a layer of apple over that -- this is to stop the stain of the berries going through the pastry.
Add the pastry and brush with a small amount of milk and drizzle a teaspoon or so of sugar over.
Bake for about 30-35 minutes, until pastry is a light golden color.
Note:.
I make this pie with minimum pastry and replace the sugar with Splenda for my cousin who is diabetic.
Serve hot or cold with either, light cream or Ice Cream.