"My grandmom used to serve this tangy yummy dip with celery. It makes a huge difference to use a high quality, strong blue cheese - if you use the cheap supermarket stuff this can be on the mild (I'd say bland) side. I like to use the strongest Spanish blue I can find. If you let it sit a couple of days in the fridge the blue flavor will intensify; you can also get stronger flavor by increasing the ratio of blue cheese to cottage cheese. Good with crackers or crudites; my husband uses it as a sandwich spread (try making one with turkey and tart apple slices); my toddler loves it straight out of a bowl (ever notice there's an "odd" in toddler?). You can use lower fat versions of the cottage cheese or milk without compromising taste, I think."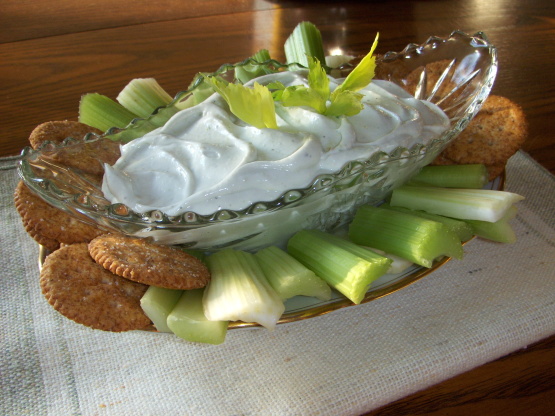 Simple Blue Cheese Dip for the Blue Cheese Lover
3 recipe photos
Directions
Remove rind from the cheese.
In a medium size deep bowl (I use a 4 cup pyrex measuring cup) break the cheese into pieces.
Add milk and cottage cheese.
Blend with a hand blender until smooth (you can blend in a real blender too, but it's more annoying and harder to clean up).
If consistency is too dense, add more milk and blend again.
If it's too runny, add more cheese- the proportions are not rigid.