"We have this often when the garden tomatoes get ripe. It is so simple and can be a complete meal. If you just need a light lunch or dinner serve with your favorite Whole Grain Bread, or if you prefer more traditional, Italian or garlic Bread. It has protien, dairy, fresh tomatoes, and did you know that BASIL in just one serving, has Dietary Fiber, Calcium, Iron, Magnesium, Phosphorus, Zinc, Copper, Manganese, Vitamin A, Vitamin C, Niacin, Vitamin B-6, Total Folate and Vitamin K. But you don't have to think about that when you are eating just ENJOY."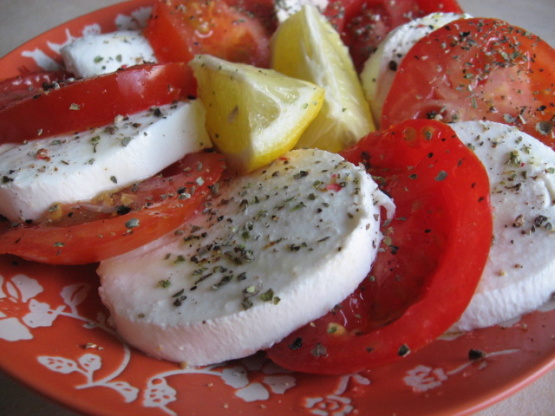 Simple Good Healthy Capri Salad
2 recipe photos
Directions
Slice the fresh Mozzarella Balls into 3 or 4 slices.
Core and remove a very thin slice from the bottom of the washed Tomatoes, slice into 4 or 5 slices.
Between 4 salad plates divide the Mozzarella and Tomato slices layering the slices alterantely (See Photo).
Sprinkle with salt and pepper to taste.
Chop the Basil and sprinkle over the top of each salad.
Drizzle 1/2 a Tablespoon of Olive Oil over each salad.
Serve with Lemon wedges or squeeze the lemon on top before serving.