"This is a fairly simple recipe that makes about 6 quarts of salsa, but expect it to go pretty quickly. It uses canned tomatoes for convenience, but everything else is fresh. Since they are not cooked, the onions and cilantro stay nice and crisp. This salsa will keep for several weeks or more when refrigerated."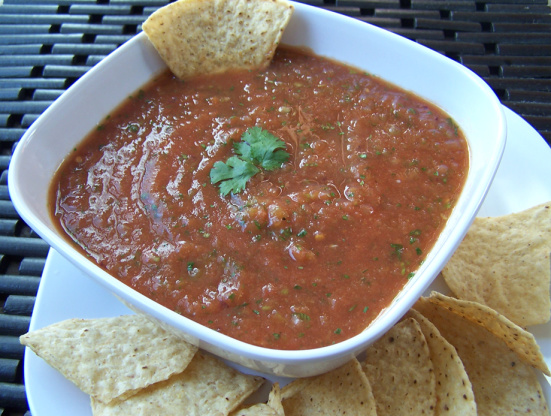 Simple Salsa
1 recipe photo
Directions
Stem the jalapenos, and add to a couple of quarts of boiling water. Bring back to a boil and cook for 10 minutes.
Meanwhile, coarsely chop the yellow and green onions and the cilantro and toss together in a bowl to mix.
In a food processor (I have a 10 or 12 cup model), empty 1 can of tomatoes with their juice, 1/4 of the onion and cilantro mixture, 2-3 jalapenos, 1 1/2 tsp salt, 1/2 tsp black pepper, and 1 tsp garlic powder. Take it for a spin until it's chopped fairly fine, about 15-20 seconds. Pour it all in a big bowl. Note: If you are using regular salt instead of kosher salt, you will want to reduce the salt amount to about 1 teaspoon. This is because regular salt has much smaller granules than kosher salt. In any case, the first time, you may want to go easy on the salt and then add it at the end.
Repeat step 3 until all of the tomatoes and onions are chopped and in the big bowl.
Roll the limes to loosen the juice, cut them in half and squeeze the juice into the salsa. Mix.
If possible, chill the salsa overnight. The flavors will blend nicely, and the texture becomes just a little bit firmer.