"My recipe for artichoke quiche."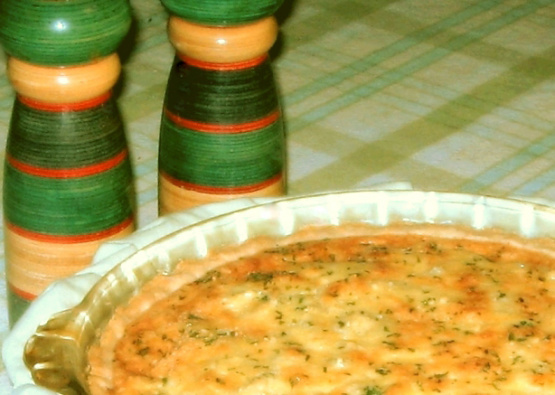 Simply Elegant Artichoke Quiche
4 recipe photos
Directions
PREPARE the CRUST: Into the large bowl of your food processor, add 2 2/3 cups unsifted all-purpose flour, 1 tablespoon chicken bouillon powder, 1/2 teaspoon rubbed sage, 1/8 teaspoon onion powder, 1/8 teaspoon turmeric powder, 3/4 cup canola oil, 6 tablespoons milk, 1 teaspoon hickory bacon fat, 1 teaspoon apple cider vinegar, 1 teaspoon brown sugar; POUR into food processor tube while running; PROCESS for 30-45 seconds; DUMP onto sheet of waxed paper sprinkled with flour; DIVIDE dough so bottom-crust portion is slightly larger; shape dough into balls; flatten slightly; PLACE sheet of waxed paper over bottom-crust dough; ROLL 2 inches wider than a 9 inch deep-dish pie plate; REMOVE top sheet of waxed paper; SLIDE hand under bottom sheet of waxed paper; TURN over into pie plate so waxed paper is on top; EASE pastry to fit pie plate; REMOVE waxed paper (do not pierce dough); PLACE pie plate into the freezer until ready to fill (shell should be fairly frozen when filled).
CUT artichoke hearts into quarters or chunky bite-sized pieces; SET aside.
GRATE 1 cup swiss cheese; SET aside.
SAUTE 2 whole garlic cloves and 1/3 cup chopped onion in 2 tablespoons olive oil in a medium saucepan over medium heat until onion and garlic soften.
ADD artichoke hearts to saute mixture along with 1/4 cup dry white wine, 1 tablespoon minced parsley, 1 teaspoon fresh snipped dill, and 1/4 teaspoon kosher salt; STIR and saute until liquid evaporates; REMOVE saucepan from heat.
REMOVE whole garlic cloves from saucepan and place into a food processor bowl along with 1 3/4 cups cream, 1 cup shredded swiss cheese, 4 eggs, 2 tablespoons melted butter, 1/4 teaspoon sugar, 1/8 teaspoon nutmeg and 1 pinch ground white pepper; PROCESS for 30 seconds.
COMBINE custard mixture with artichoke saute mixture in a medium-large bowl; ADD 2-3 ounces crumbled feta cheese (optional but recommended); FOLD ingredients together until well blended.
POUR custard mixture into two 9-inch pre-baked pie shells or into one 10-inch deep dish pre-baked pie shell; TOP with 2-3 ounces crumbled feta cheese (optional but recommended) SPRINKLE with snipped fresh chives or green onion tops before baking.
BAKE at 375 for 25-30 minutes until puffed and lightly browned; ALLOW to set 10 minutes.
SLICE, then SERVE and ENJOY!