"Potatoes are nearly religious in Iceland. If I put the most extravagant "potato-less" meal ever created in front of Siggi … he scans it, frowns & says "Hmm. No potatoes, huh?" In addition, SusieQusie accuses me (rightly so) of sleeping comfortably while Siggi trots off to work … so I thot I'd "marry" these 2 concepts & devised his now favourite G-N-G (Grab, Nuke & Go) breakfast. (Time doesn't include time spent originally fixing the potatoes or hard-boiling the egg)"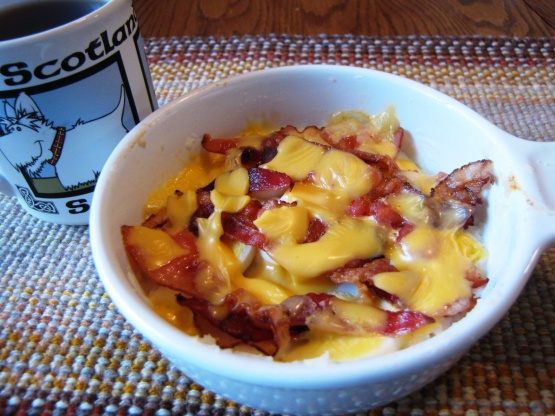 Sleepy Twisted Sister's G-N-G Breakfast Ramekin
4 recipe photos
Directions
Lightly butter 2 ramekins using a pastry brush.
Put 2 ounces flavourful mashed potatoes or seasoned fried potatoes in the bottom of the ramekins. Layer hard-boiled egg you've sliced w/your handy-dandy egg slicer over the potatoes, putting half the egg in ea ramekin. Layer ea ramekin w/a ham slice. Top ea ramekin w/1 tbsp grated cheddar cheese & garnish w/chopped fresh chives.
Refrigerate till your DH is ready to G-N-G & train him to be ever so quiet as he nukes his breakfast & leaves for work!
NOTE: I thot the fresh chive garnish was a really nice "extra effort" touch. :-).