"Potica is a typical Slovenian festive dish known all around the world. It was first mentioned in 1575. A test recipe for the Digital Culinary Heritage of Slovenian Australians research project ( http://kaja-antlej.com/digital-culinary-heritage-of-slovenian-australians/). The recipe and the introduction based on www.slovenia.si/visit/cuisine/recipes/potica/. Photo: Kaja Antlej"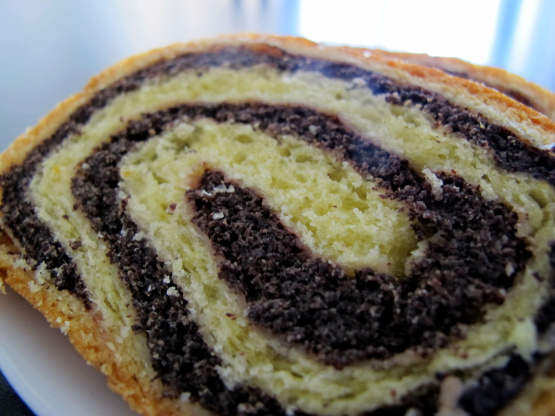 Slovenian Potica
1 recipe photo
READY IN:

3hrs 30mins

SERVES:

12

UNITS:

US
Directions
Put flour in abowl, sifted if you like, add salt.
In a cup dissolve the yeast in water or milk and in another cup mix the eggs, sugar, rum, vanilla essence, lemon or orange peel.
Healt milk, melt fat.
Add hot milk to the flour, stir and add the mixture of eggs, sugar, rum and aromas.
Stir again, add dissolved yeast and fat and stir into a medium thick dough.
Knead until it is elastic inside and smooth on the outside. Make sure the dough does not stick to the bowl and that it is not too hard.
Cover the dough with a PVC sheet and leave to rise. Dough should always rise at room temperature. With rising the quantity of the dough should double.
Knead it once and roll it out and spread it with the filling.
Filling: Melt honey in tepid milk, and then add one half of walnuts, sugar, eggs, aromas, spices and rum.
Spread the filling on the rolled-out dough and sprinkle with the other half of walnuts. The temperature of the filling should be equal to that of the dough.
Roll tightly, put in a mould, prick and leave to rise.
Before baking, coat with a thin layer of milk and egg mixture – make sure the holes are not stopped.
Bake 50 minutes at 190°C.