"This carefully adapted bread machine recipe makes a superb, wonderfully light and open-textured French style loaf, but smaller than most - ideal for one or two people. This recipe is also much lower calorie and lower fat than most and is sugar-free, lactose-free and egg-free. The small size is perfect if, like me, you live alone and adore fresh baked bread but find most bread machine loaves are just too big unless you eat nothing but bread all day or you don't mind it a bit stale / defrosted. This is my favourite loaf and I make it a lot. A couple of things I've learned from the various modifications I've experimented with are: Don't use water COLD and straight from the tap if possible - do let it warm up to room temperature before using for this loaf. French loaves are made differently to other breads and this is quite important. I used to use filtered tap water, but found that any cheap bottled spring water makes sufficient improvements in taste that its worth using if you have it to hand. I almost always add Vitamin C Powder (you get it from Pharmacy) as it is a recognised major flour improver and additionally helps the bread keep fresh for longer. Original recipe called for 15g butter but I 've found this is vastly excessive unless you care for the buttery richness. I do in my scones and shortbread - not in my white bread. Have personally found that 9g of (firm) baking margarine gives wonderful taste and texture. Commercially, vegetable oil is used for French bread and I like it just fine with oil - at least for health purposes - it becomes more savoury too. 1/2 a tablespoon is plenty. If you are looking for a small, exceedingly healthy white loaf with wonderfully light and moist texture then do give this a run - I'm sure you'll be delighted!"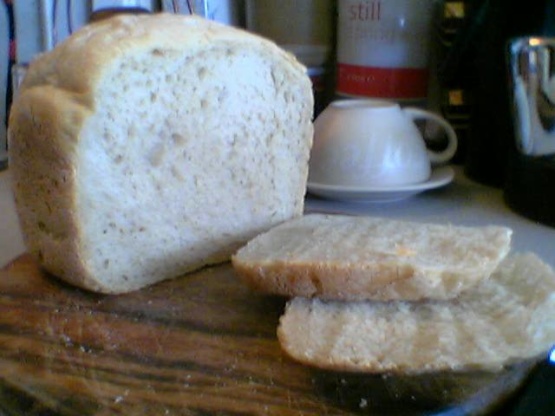 Small Ultra-Light Healthy French Bread Loaf (Abm) Bread Machine
1 recipe photo
210

ml water (At room temperature. Bottled spring water preferred but room-temperature tap water ok too)
1⁄4

teaspoon vitamin C powder (a.k.a. Ascorbic Acid powder, optional but strongly recommended)

9

g firm margarine or 1⁄2 tablespoon vegetable oil (about 3g) or 9 g butter

1

teaspoon salt (About 4g or 5g of Standard Table Salt. Preferably Lo-Salt or other Reduced-Sodium equivalent)

300

g strong white flour
2⁄3 teaspoon bread machine yeast (About 3g, standard bread machine yeast, if using sachets, not quite a full sachet)
Directions
Remove pan from Bread machine and place on a electronic kitchen scale, and zero scale.
Weigh 210ml (210ml water weighs 210g) and rest of ingredients carefully into the pan, in the order listed (if you have the time, do have a read through of the notes :).
Select French Loaf cycle (or Wholewheat/Wholemeal cycle if no French Loaf cycle available) and select crust/firmness if necessary required for your machine. (I feel that this loaf benefits from a fairly firm crust - as long as it's not burnt!).
Start Machine.
Notes:
Time listed is for the actual baking part of my machine's French Bread cycle. They vary by manufacturer.
I took this recipe originally from a machine which had a 6-hour French loaf cycle but my machine makes a French loaf in 4 hours. My mum's does it in 2 3/4 hours. I've found that the results are pretty consistent regardless of machine, although you occasionally need to increase/decrease amount of yeast to marry the recipe to the 'rise' component of your machine's cycle.
My machine has an un-overrideable 20 minute pre-heat before it does anything whatsoever whenever I use this cycle, so I need to take the following precautions so that the yeast doesn't make contact with any liquid before kneading starts which I recommend to you:
When pouring the water do try to pour gently trying to avoid slashing up sides.
When adding the flour, do try to cover the water completely if possible.
When adding the yeast, if necessary/inclined try making a dip (or 'well') in the top of the flour and carefully pouring the yeast into the dip/well.
If using yeast in sachet form it's worth measuring it onto a teaspoon first and holding some of the sachet (depending on sachet size).
Here in Europe most of our cooking is weight-based rather than volume based.
A set of electronic kitchen scales with 1 gram graduations can be quite cheap if you hunt around and more than any other cooking and baking they really come into their own when it comes to bread-making, although I usually still use spoon measures for salt and yeast, and for liquid oil when I use it. Gives bomb-proof results, every single time!
get the genius kitchen app.
Watch on your iPhone, iPad, Apple TV, Roku, or Fire TV.
Learn More