"A delectable late Summer and Autumn preserve that I concocted with a glut of ripe, juicy red tomatoes and ground chipotles........smoky hot and yet very subtle! This really is more like a jam than a chutney or relish, the consistency is very jam like, thick, smooth and shiny with a good texture. This is the prefect accompaniment for all types of hard cheese, such as mature Cheddar, Comte, Cantal or maybe a nutty Gruyere. It's also a great addition to toasted sandwiches, burgers, sausages, meatloaf, stews, casseroles and curries. This smoky tomato jam would make an ideal gift for a foodie friend - add a pretty paper or linen cap with a raffia bow and attach a card listing the ingredients with suggested serving ideas! NB: I know there is a lot of debate about how to bottle and then store jams, chutneys, pickles and preserves; it is all down to basic good hygiene and common sense! I give you the way that I have always followed - my method may not be the same way as yours - but this old family procedure works for me; please feel free to follow your own method if necessary. A good preserve will last without a hot water bath or oven bottling, as long as your jars and equipment are scrupulously clean and sterilised, and that the correct amounts of preserving agents such as salt, sugar and vinegar are used."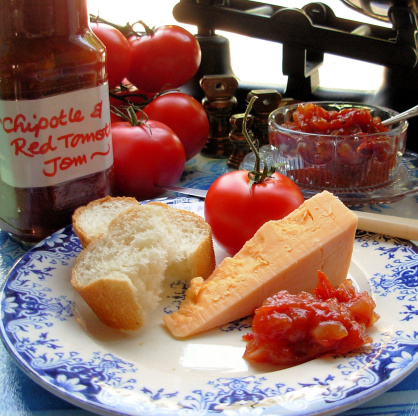 Smoky Chipotle and Red Tomato Jam (Chutney - Relish)
4 recipe photos
Directions
Tip all the ingredients into a large heavy-based pan and bring to a gentle simmer, stirring frequently.
Simmer for 1 hr, and then bring to a gentle boil so that the mixture turns dark, jammy and shiny.
Divide the hot jam/chutney between sterilised jars and set aside to cool.
Place a disc of waxed paper directly onto the jam/chutney and seal with airtight lids or Cellophane and elastic bands. Store in a cool, dry place, away from direct sunlight, for at least 1 month before eating. It will keep for up to 6 months. Chill after opening and use within 1-2 months.
How to sterilise jars: Wash them thoroughly in hot, clean, soapy water, drain upside down on kitchen towel and place on a baking tray in a preheated oven at 140C/280F/Gas Mark 1 for 15 minutes. Turn the oven to its lowest setting and keep the jars inside while you make the jam/chutney. Alternatively, you can wash them in a very hot cycle in your dishwasher and then proceed with the oven method as above.
get the genius kitchen app.
Watch on your iPhone, iPad, Apple TV, Roku, or Fire TV.
Learn More